25 Best Wineries Near Barcelona to Visit (2023)
This article may contain affiliate links. Please read our
Disclosure Policy
for more information.
There's always something special about sipping wine that's been lovingly crafted in the region you're exploring. So if you're looking to visit some of the best wineries near Barcelona, I've got you covered.
The Mediterranean breeze, the sun-kissed grapes, and the age-old cellars are a testament to the region's wine-making prowess. Dive into this article and I'll take you on a whirlwind tour of some true Catalan gems.
After all, living in Spain has given me a front-row seat to some of the best wineries near this vibrant city – so you can trust that these picks come straight from the grapevine (sorry, I couldn't help myself).
The sprawling vineyards, the intoxicating aromas, and the rich flavors are nothing short of mesmerizing. Stick around, and I'll show you the must-visit spots out of all of the Barcelona wineries – and maybe even a new favorite bottle or two!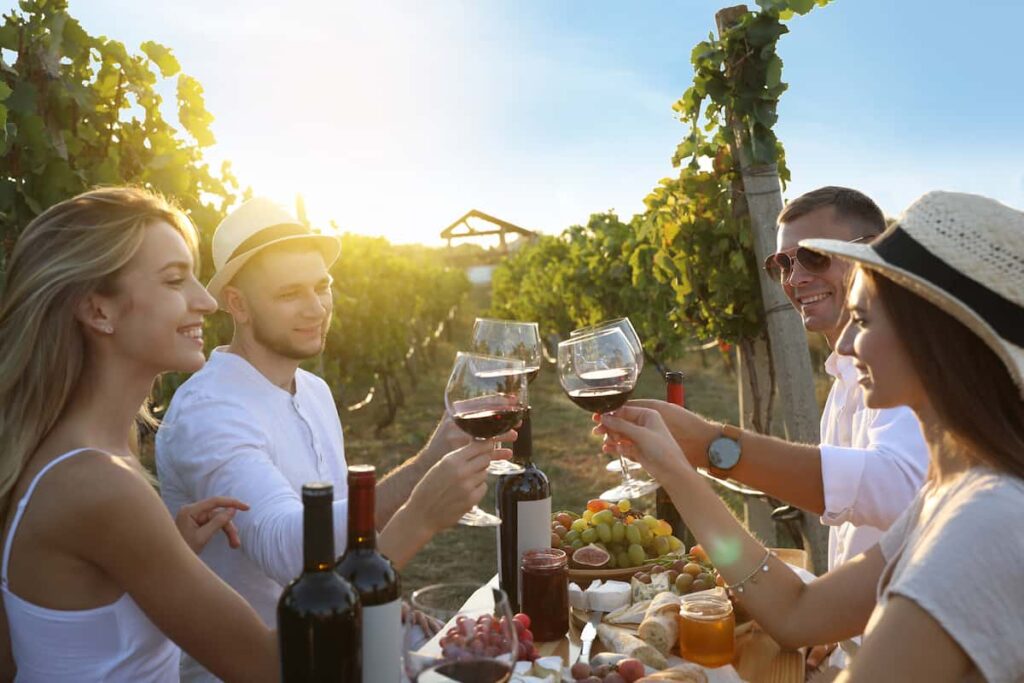 ⭐⭐⭐⭐⭐
✅ Start with entering the 12th-century basilica at Montserrat
✅ Visit a boutique winery for a vineyard tour, wine tasting and tapas at the winery's 1,000 year old castle
✅ Great combination of history and culture in one day trip!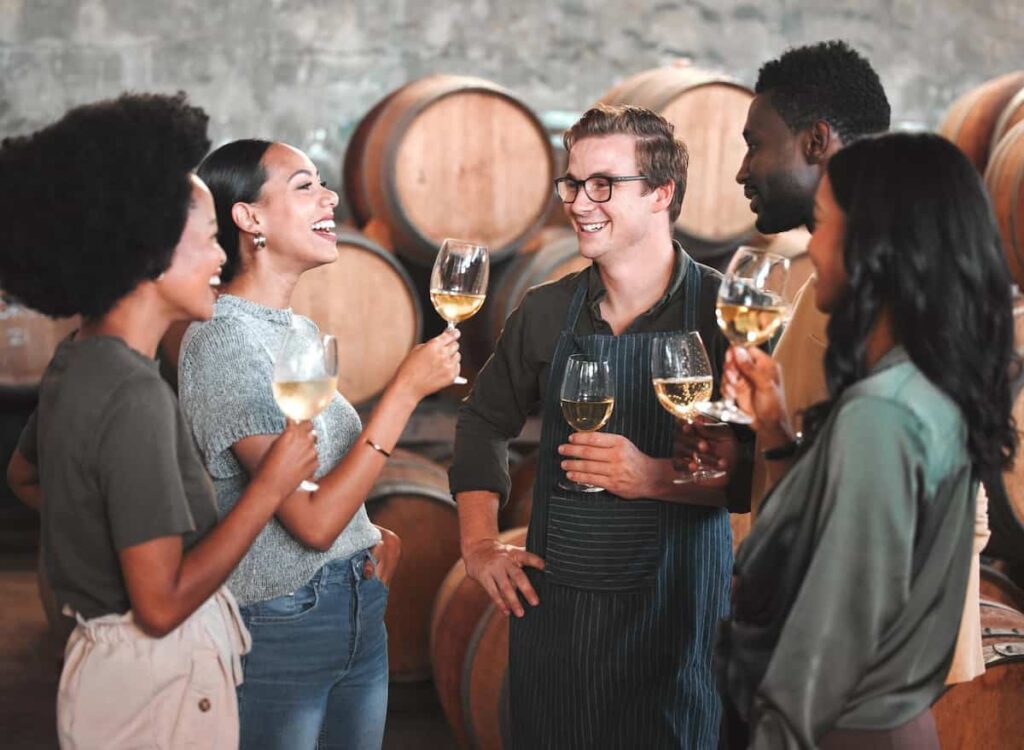 ✅ Head to two boutique wineries with tastings of three wines and four types of cava with local cheese and charcuterie
✅ Embark on a 4×4 adventure tour of the historic 2,000 year old vineyards, including a 10th century chapel on the estate
✅ Perfect for those wanting a full experience of the famous Penedès wine region
✅ Sail down the coast, along the Mediterranean, with wine and cava
✅ Visit a family-run winery for a guided tour and tasting of four local wines
✅ Truly a unique way to experience the local wine culture
Best Barcelona wineries
1. Oller del Mas
Oller del Mas has a certain charm. Spread over a generous 400-hectare estate, it offers some incredibly serene views of Montserrat.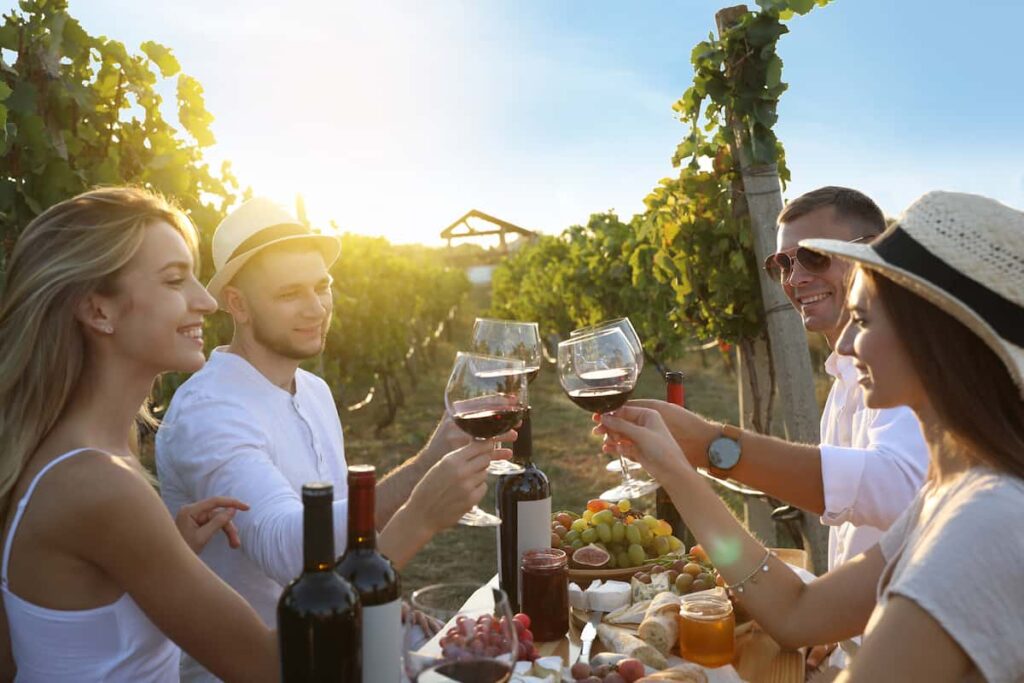 The winery itself is in a 10th-century medieval family castle, which definitely adds to its unique character. Moreover, they have a commitment to organic farming, particularly evident in their Arnau Oller and Bernat Oller wines.
In fact, they've infused modern techniques by incorporating machinery from French wine regions, while prioritizing quality. Their focus is on producing limited, carefully crafted bottles.
If you visit, there's plenty to explore, from the castle grounds to the vineyards, and they even offer a range of activities that cater to different interests. And given its location, it's the perfect winery to combine with a visit to nearby Montserrat!
That's actually exactly why it's my pick for the best wine tour near Barcelona. Being able to see Montserrat and then do a wine tasting at a 1,000 year old castle (all organized for you, meaning no hassle and no one having to drive!) is a seriously great day trip from Barcelona all round.
You can check prices and availability for this day trip here.
2. Freixenet
Situated in the Penedès wine region, around 50 kms southwest of Barcelona, you'll find the Freixenet winery – the most famous of Barcelona's cava varieties and, in fact, the biggest producer of cava in the world. Sant Sadurni D'Anoia is its home, and the Ferrer family's roots run deep in Penedès. 
In fact, the original home of founder Pedro Ferrer Bosch is still on the vineyard named "La Freixenada". This winery reflects a genuine passion, spontaneity, and a touch of that Mediterranean spirit.
Penedes, known for its cava, has a rich wine-making history. It's characterized by its rolling hills and is shielded from harsh winds, thanks to the Garraf Massif and the Montserrat Mountain.
Its unique chalky soil and ample sunlight play a part in producing quality grapes. In particular, sing local Penedès grapes gives their wine a distinct and genuine taste.
When it comes to making wine, Freixenet uses the traditional method, which means the wine undergoes a double fermentation process. From there, these bottles mature in an extensive 54km network of caves beneath the winery.
3. Pares Balta
Just 30 km from the Mediterranean coast and Barcelona, Pares Balta sits in the Penedès wine region. It's a family affair dating back to 1790, and they're all about creating wines and cava that truly express their land.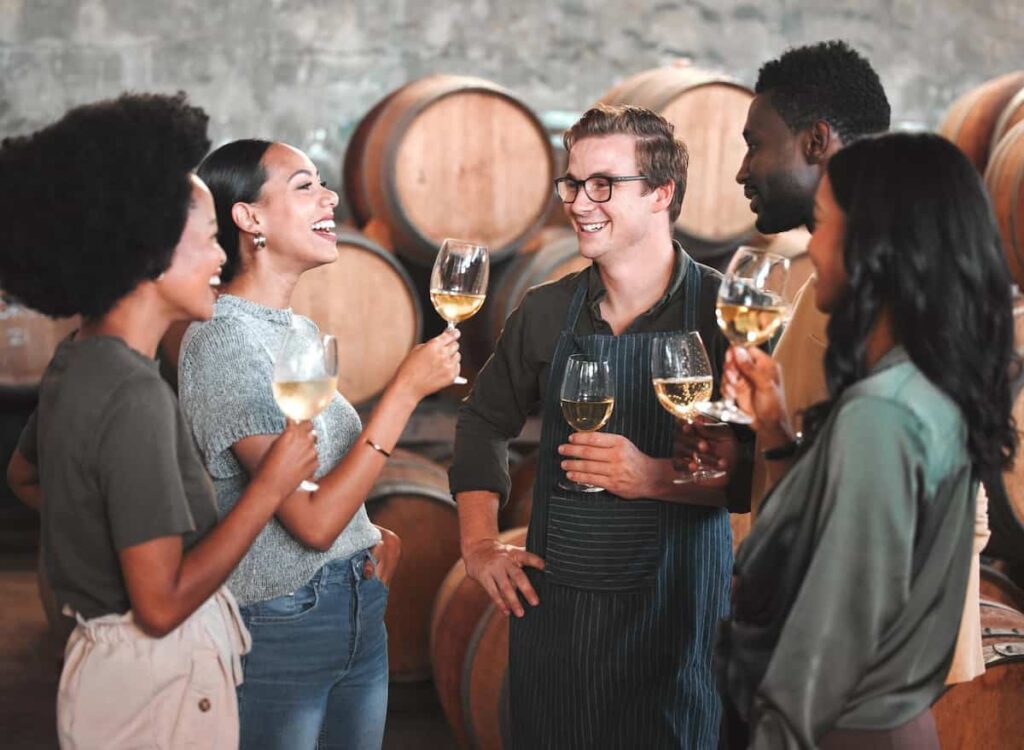 They've taken organic and biodynamic farming to heart since the early 2000s, helping to maintain rich biodiversity in their estates. Plus, they've got their own flock of sheep for fertilization, and beehives too – that's nature's way of ensuring a beautiful pollination process.
If you're looking to immerse yourself in the world of wine, Pares Balta has you covered. In fact, they've got a great day tour from Barcelona where you get to visit the monastery at Montserrat and then head to the winery.
There, you'll be able to explore the rustic Penedès area, take a walk in the vineyards and one of the world's largest underground wine cellars – and, of course, do a tasting of some of the best wine the region produces.
Find out more, including availability of this day tour, right here.
4. Celler Bàrbara Forés
Celler Bàrbara Forés tells a story. Tucked away in the village of Gandesa, this family winery draws inspiration from their great-grandma, Bàrbara Forés, who was born back in 1828.
Her legacy and influence in the family were profound, and the winery aims to capture that essence in their wines. In essence, each bottle represents a long-standing tradition of winemaking in the family.
The Terra Alta wine region, where this winery is located, is absolutely picturesque. Protected by mountain ranges and cradled by several rivers, it's a lush Mediterranean spot.
The diverse terrain, dotted with wheat fields, vineyards, and olive groves, combined with optimal altitude and abundant sunshine, results in well-balanced grape ripening. If you appreciate wine with a touch of history and tradition, Celler Bàrbara Forés is worth a visit.
5. Bouquet d'Alella
Bouquet d'Alella is more than just a winery – it's an adventurous journey taken on by the Cerdà siblings in 2010. Inspired by their father's legacy and their dreams of blending tradition with a modern twist, they've crafted something truly special here.
The name "Bouquet d'Alella" is actually a play on words of the family estate "Can Boquet" and the French term for the aromas a wine gives off. They're committed to producing top-notch organic wines and are just a short 15 km away from Barcelona, making it a convenient escape from the city.
In particular, they're all about sharing their love for wine and the unique surroundings they're in. That's why you can actually do what is probably one of the coolest wine tours out there – a relaxing sailing trip from Barcelona, which brings you to this winery for a tour and tasting of local wines.
It's a seriously good way to see some of the region – and taste it too! Find out more information about this sailing and winery day trip here.
6. Celler Crivellé I Valls
Located in Poboleda, within the Priorat region, Celler Crivellé I Valls is all about family and tradition. They've been in the grape-growing business for over four generations and still use some vineyards with vines that are more than 90 years old.
Their vineyards offer quite the diversity, from steep slopes to flatter areas with muddy and slate soils. The blend of old and new vines provides them with a range of grape varieties including Garnacha Tinta, Cariñena, Syrah, Cabernet Sauvignon, and Garnacha Blanca.
Their dedication to traditional methods ensures that the wines they produce have a signature touch. In particular, the stars of the show at Crivellé i Valls are definitely the old grapevines.
Book a visit, and you'll get to see how they lovingly care for these ancient plants. And of course, no visit would be complete without a wine tasting of Barcelona's finest to truly understand the craft behind their creations.
7. Celler Cooperatiu Gandesa
So you're into old tales and vintage stories? Then let me introduce you to Celler Cooperatiu Gandesa.
This place is soaked in the stories of 150 wine-growers, who've been part of this story for a while now. Located in the historical region of Gandesa, you're surrounded by vines and olive groves, not to mention the protection provided by the nearby mountains.
(And they also deal in top-quality olive oil and almonds, just in case you were wondering!)
Celler Cooperatiu Gandesa has a rich history, founded over a century ago by 48 families. With its foundation back in 1919, the architecture is a nod to the famous Antoni Gaudi from Barcelona, designed by the equally remarkable Cèsar Martinell.
Today, people sometimes call it the wine Cathedral – a testament to its significance in the wine world. They're always upping their game by blending the old with the new, incorporating fresh tech and viticulture practices.
The terroir here is pretty special, with about 317 hectares of vineyards, both young and old. They're serious about their grape varieties: Macabeo, White and Black Grenache, Carignan, Morenillo, and Hairy Grenache, to name a few.
But hey, they haven't forgotten about the international fans with Syrah, Tempranillo, and Cabernet Sauvignon also in the mix. And if you're into olive oils, they're growing Empeltre and Arbequina varieties in a way that Mother Nature would give a thumbs up to.
8. Celler Menescal
Celler Menescal is a family winery in the Bot region of Terra Alta that's steeped in history. With roots tracing back to the 19th century, it's one of the longest-standing wineries around. 
And if you're into museum pieces, they've got a collection of winemaking artifacts that paints a clear picture of their rich history.
Sitting around 400 meters above the sea, the climate and soil combo here gives their wines a unique character. They've got around 17 hectares of vineyards and they're growing a cocktail of grape varieties.
On the white side, there's Grenache, Chardonnay, and Macabeo. And for the red enthusiasts, they've got Merlot, Syrah, Tempranillo, Grenache, and Carignan. Plus, since 2011, they've been certified organic – a nod to their commitment to the environment.
When it comes to their specialty, they're embracing both the traditional and the modern. From wines that give off modern vibes to those that echo tradition, they've got a range.
But let's not forget about their sweet wines – a big deal in the region. And that's not even mentioning their Vinegar Balm, which has got quite the fan club, being a favorite in some of the top restaurants in Catalonia.
9. Terra Remota
Terra Remota, in the Empordà region, is about dreams, hard work, and the magic of the land. The first taste of their organic wine and you're off on a trip – dreaming of far-off places and new adventures. The vineyards? They're like stepping into another realm.
The backstory here is just as intriguing. Founded in 1999 by the Bournazeau Florena Family, the location between Capmany and Sant Climent Sescebest is a serene oasis.
And, if history's your thing, you'll be interested to know that the land was once home to ancient Iberian communities, making you feel even more connected to the past. The symbols in their logo pay homage to these ancient inhabitants.
Three key concepts drive Terra Remota: quality, respect for the raw stuff, and identity. Because of this, their approach to winemaking is as hands-off as possible to let nature do its thing.
Their vineyards are spread over 54 hectares with an eco-friendly label stamped in 2012. Not to mention that all the harvesting is done by hand, so every bottle is packed with care and passion.
10. Buil&Giné
Buil&Giné in Priorat is a winery with a story that goes all the way back to Roman times with the Ancient Romans having cultivated this very same land for wine production. Fast-forward to today, and you've got at least six generations of the family still hard at work, perfecting the art of winemaking, and they're proud to call themselves farmers.
The knowledge has been passed down and enriched with every generation, making their wines a testament to tradition and dedication.
At Buil&Giné, they believe that the magic begins in the vineyard. The land, the light, the rain, and all the little elements come together to give the vines their unique character.
This essence is then carefully bottled up, resulting in wines that aren't just delicious but have a story to tell. From passionate winegrowers to the very soul of the region, it's all there in each bottle.
Being situated in Priorat isn't just about location. This region, with its distinctive llicorella soils, adds a distinct character to the wines. Overall, it's like having a little bit of history, culture, and Mediterranean soul in every sip.
11. Bodegas Torre Del Veguer
Bodegas Torre Del Veguer isn't just a winery – it's like a living museum in Sant Pere de Ribes. The cornerstone of this place is a fortified farmhouse tower that dates all the way back to 1359.
Add to that the fact that this building is now a historically listed one, and you're basically sipping wines in a piece of Spanish history.
Their wines are more than just good, with the team at Bodegas Torre Del Veguer aiming for excellence at every stage of the winemaking process. And their efforts haven't gone unnoticed over the centuries – they've got a Gold Medal from the Universal Exhibition in Barcelona in 1888 to prove it.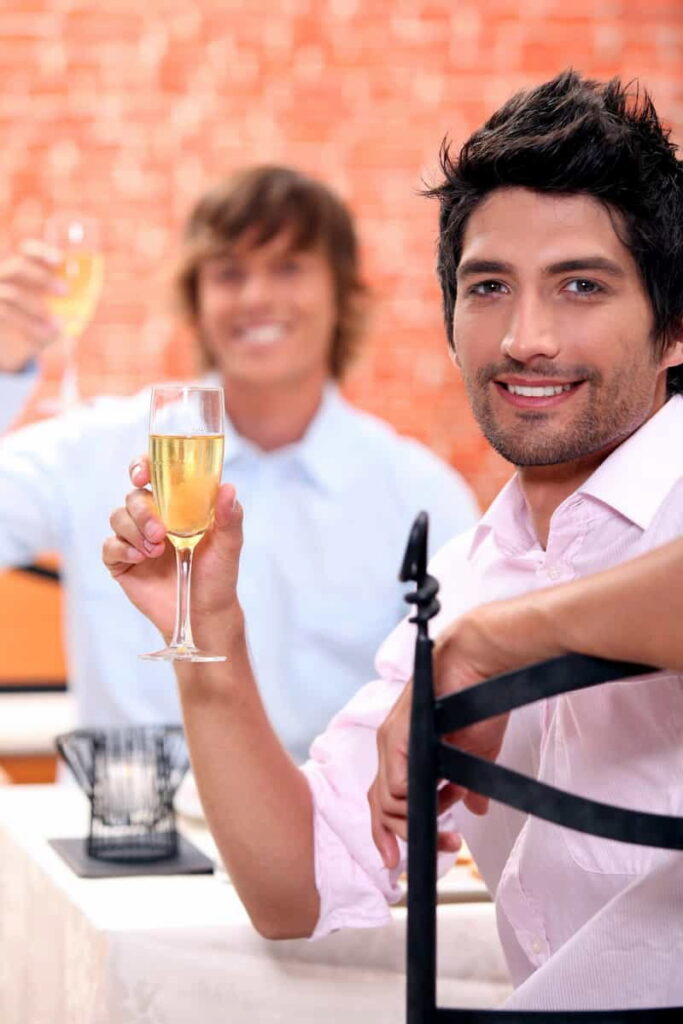 Their diverse range of grape varieties, which have been organically grown since 2016, only adds to the uniqueness of their wines. Plus, the setting is like something out of a postcard.
Between the historic buildings and the backdrop of the Mediterranean Sea, you're in for an experience that's as much about the ambiance as it is about the wine.
12. Celler Jordi Lluch
Right smack in the middle of Alt Penedès, you'll find the Celler Jordi Lluch Winery. It's here, in the DO Penedès region, that 25 hectares of vineyards are meticulously cared for, producing some truly fine grapes.
And if you're one for scenic views, I promise that the surrounding countryside won't disappoint.
Having been around since 1984, this winery has seen its fair share of evolution. From focusing on bulk wines to bottling, and then moving to produce high-quality Cava in 2003, it's been a fascinating journey.
Through it all though, the respect for tradition and age-old winemaking practices has remained. At the same time, you're in for a treat when it comes to variety.
From Tempranillo to Xarel-Lo, there's a grape for every palate. And with manual harvesting and selective fermentation, you know you're getting the cream of the crop.
Don't miss out on trying wines from both Jordi Lluch Winery and their sister production, Vinya Escudé, when you visit.
13. Celler Martin Faixo
Celler Martin Faixo in the Empordà region tells a beautiful tale of passion and commitment. This family-run winery saw a rebirth in 2000, inspired by generations past, and in the stunning backdrop of Parc Natural de Cap de Creus, they breathed new life into old traditions.
2007 marked the year their first wines were introduced to the world, and they haven't looked back since. Both sides of the family, Faixó and Martín, brought their unique strengths together; with one specializing in grape tree cultivation and the other in the hospitality sector.
Today, the family boasts a cultivation area of 16 hectares, nurturing a blend of wine varieties, including Merlot, Cabernet Sauvignon, Grenache, Picapoll, and Mouscat of Alexandria.
And if you're thinking of pairing your wine with some good food, the winery's Enoteca MF restaurant won't disappoint. Offering modern culinary delights, with a nod to regional recipes, you can sip their exquisite wines or handmade beer while soaking in the mesmerizing view of Cadaqués' old town.
14. La Vinyeta
La Vinyeta is located in the scenic Mollet de Peralada of Spain's Emporda region and is a testament to how tradition can harmoniously coexist with the present. Their holistic approach sees their vineyards sharing space with livestock and olive trees, where chickens munch on leftover grapes and sheep wander about, adding their bit to the ecosystem. 
It's an authentic Mediterranean experience where wine isn't just a product but a lifestyle, intertwined with honey, eggs, olive oil, and cheese.
The natural bounty of the Emporda region aids the growth of grape varieties like Garnatxa, Carinyan, Moscat, and Macabeu. La Vinyeta takes pride in its organic philosophy, ensuring their wines carry the essence of nature and maintain the health of the surrounding environment.
And if you're looking to sample their craft, they've got a range that would impress any wine aficionado. From the youthful Heus range to their other stellar offerings like Llavors and Mig Mig, a visit here promises a sensory delight.
15. Masia Torreblanca
Imagine stepping into a 15th-century establishment in the Penedès region, with a history echoing tales of the Bronze Age, Iberian reigns, Roman fortifications, and medieval marvels. That's the charm of Masia Torreblanca for you.
This Renaissance masterpiece has been meticulously restored and now stands as the abode of Viña Torreblanca society, a testament to the timeless allure of wines and cavas of unparalleled quality.
Strategically located in Alt Penedès, the winery's vineyards bask in the climatic gifts of the Mediterranean Sea to the east and are sheltered by the mountains on the west. Known for producing white wines and cavas of exceptional character, the Penedès Designation of Origin is a testament to the region's wine prowess. 
Torreblanca adds to this legacy by blending wines from indigenous grape varieties like xarel•lo, Macabeo, and parellada, making every sip a celebration of the region's rich heritage.
16. Eudald Massana
When you're thinking about legacy and wine, Eudald Massana Noya is what you'd talk about. With nine generations of the Massana family deeply rooted in viticulture, this winery has mastered the art of creating wines with love, care, and respect for Mother Nature.
Set smack in the middle of Penedés in Sant Pau d'Ordal, their vast 30 hectares of vineyards paint a picture of dedication and passion. They've got a variety of 12 grape types: 6 white and 6 red.
Who doesn't love a bit of wine tourism? Well, Eudald Massana Noya has been at it since the very beginning. And trust me, they've got a seasoned team ready to immerse you into the intricate world of wine.
The tours are immersive, taking you right into the heart of the vineyard and the winery. And if you're planning to spend a little more time, they've got provisions for campervans all year round. Plus, their shop's open every day, so you're always welcome.
17. Giró Del Gorner
If you've got a thing for family history and wine, then Giró del Gorner is your go-to spot. This winery isn't just in the heart of Penedes near Barcelona, it's a literal representation of centuries of winemaking tradition. 
I'm talking roots that trace back to 1887. Gabriel Giró I Via, Jr, the current torchbearer of this family legacy, is fiercely dedicated to maintaining the traditions passed down through generations.
Giró del Gorner isn't just about traditions – it's also about producing some of the finest wines and cavas in the region. Their vineyards stretch over a whopping 48 hectares, split into 29 unique plots.
The variety of grapes they cultivate, like Chardonnay and Cabernet Sauvignon, is seriously impressive. Over time, while they've made upgrades to their cellars and wine-making techniques, the essence of their wine remains deeply rooted in tradition.
18. Vinyes Del Terrer
If you're yearning for a family-run winery experience by the Mediterranean, Vinyes Del Terrer is calling your name. Located in Vila-Seca, close to Tarragona, this winery began its journey back in 1989.
The family's aim was simple yet profound: to harness the unique Mediterranean terroir they had in their backyard. Being a stone's throw (just 2 km) from the sea, the winery benefits from its cooling breezes.
The distinctive lumaquela soil adds a mineral-rich palate to their wines, creating offerings that are both refreshing and deeply flavorful.
But it's not just about the location or the soil – it's about the care and love poured into each vine. Across their nine vineyards, which by the way, are only 20 meters above sea level, they follow sustainable practices.
You won't find any chemical fertilizers or pesticides here. Instead, you'll find Grenache, Macabeo, Sauvignon Blanc, and Cabernet Sauvignon grapes flourishing.
And with their ecological certification from CCPAE, they're not just saying they're green; they're proving it.
Production wise, Vinyes Del Terrer isn't trying to flood the market. With an annual output of around 60,000 bottles, they focus on quality over quantity.
Their wines, blending tradition and innovation, have found fans both locally and across the globe. So, if you're looking for wines with character, heart, and a touch of the Mediterranean, you know where to head.
19. Casa Vermouth Padró
Now, let's take a bit of a time travel to Tarragona, to a place that's been familiar with wines since 1776: Casa Vermouth Padró. It's more than just your average winery; it's an institution teeming with stories of wines sold from carts.
Every corner whispers tales of winemaking through the centuries, the hardships, the ups and downs, and oh boy, those ever-changing times.
Fast forward to today – five generations later – and the legacy is still going strong. Each generation has passionately led the winery, passing down the age-old winemaking skills, knowledge, and of course, those little family secrets that make their wines so special.
And that includes that Casa Vermouth Padró offers something a tad bit unique: wines infused with aromatic herbs. These wines aren't just aged to perfection; they're concocted into some really cool cocktails too.
20. Perinet
Heading deeper into Catalonia, let's mosey on down to the valley of Priorat, where the Perinet Winery awaits. This estate is surrounded by some seriously beautiful vineyards and offers a unique panorama of the region.
Established back in 2002, this winery isn't stuck in the past. It's decked out with state-of-the-art technology, and they've got the works, including separate rooms for fermentation, bottling, and aging.
The real magic, though, is thanks to Antoni Sánchez-Ortiz, or Toni as his friends call him. Born in the Pyrenees and armed with expertise from the University of Tarragon and Victor Segalen, he's the brain and heart behind the wine magic at Perinet.
Toni's not just about the books – he's all in with his passion, experience, and well, a sheer willingness to excel. 
Now, here's a tidbit for all you wine connoisseurs: Perinet's estate plots spread across three distinct regions in Priorat. This means three different micro-climates, each perfect for grape cultivation.
So, whether you're a fan of Grenache, Carignan, Syrah, Cabernet Sauvignon, or Merlot, Perinet's got you covered.
21. Masetplana
On to Empordà, and here we have Masetplana, a name that resonates with seven generations of wine legacy in Catalonia. They've been in the game since 1816, deeply connected to Garriguella and its picturesque vineyards and olive groves.
The past three generations have passionately led the olive oil mill, and they've brought a fresh twist to their wine identity. Their wines? They're like a canvas of the family's history, an eclectic blend of tradition, local flavor, and of course, a generous splash of Empordà character.
What's interesting is their experimentation. Ever heard of Malbec in this part of the world? Masetplana introduced it, and guess what? It decided to stay.
Their 2005 harvest was pretty memorable, marking the start of their bottled legacy. And those original blends are still around, standing strong amidst evolving tastes. 
And no one's resting on their laurels around here. For example, the seventh generation of owners actually produced their own line of wines. Specifically, they introduced the A21 series – a white, a rosé, and a red.
Following these were "El nen de Can Maset" and "M'acabeu la paciència," wines that aren't just drinks but narratives. In essence, with Masetplana, you're sipping on bottles full of history, personality, and the pure spirit of Empordà.
22. Can Calopa De Dalt
Can Calopa De Dalt in the Costers del Segre region is perched in a rural section of Barcelona. Specifically, this winery finds its home on the Serra de Collserola Mountain Range's western slope.
A tad unique, it boasts the Vinyes de Barcelona, which, believe it or not, is the only wine produced right in the city of Barcelona. The wines here are a part of a larger project, initiated by Barcelona City Council and now managed by L'Olivera Cooperativa since 2010.
But what makes this initiative so special? Well, it's aimed at reviving the city's winemaking tradition while supporting innovative farming.
Besides crafting some fine wines, Can Calopa De Dalt is dedicated to social inclusion and eco-friendly practices. And here's the cherry on top: a team of young folks, undergoing training and vocational integration, are behind the scenes working the estate and crafting that lovely city-made wine.
If you're thinking of varieties, they've got you covered. Their estate, blessed with the right amount of rain and those crisp cool nights, spans across three hectares.
Here, they're cultivating Grenache and Syrah grapes. And when you swing by their wine bar, don't miss the wines from Vallbona de les Monges, which include organic Grenache, Chardonnay, and a few others.
From red to sparkling, Can Calopa de Dalt's got a wine for every palate.
23. Recaredo
Let's now head to the Penedès wine region to explore Recaredo. Situated amidst vineyards and woodlands, this family-run winery takes pride in its sparkling wines aged with cork stoppers for over 30 months.
This unique technique preserves those fresh herbal aromas we all love. Plus, their commitment to organic methods led them to produce the Can Credo, a smooth still white wine.
Back in 1924, Josep Mata Capellades built a tiny cellar beneath his home in Sant Sadurní d'Anoia and named it Recaredo. Through years of growth, commitment, and the involvement of successive generations, the winery has introduced innovative techniques while preserving age-old traditions. 
And if accolades matter to you, in 2017, the Association of Sommeliers tagged them as Catalonia's Best Winery.
Oh, and did I mention they've been into biodynamic practices since 2006? Specializing in traditional Penedès varieties, with Xarel·lo leading the pack, Recaredo crafts sparkling wines that scream gastronomic delight.
Basically, if you're a fan of organic viticulture with a respect for nature and traditions, you won't be disappointed here.
24. Cooperativa Falset-Marçà
Cooperativa Falset-Marçà, with a winemaking history spanning over a century, stands as a testament to the fusion of two iconic cooperatives – Falset and Marçà. Sitting atop a hill in the Falset region of Tarragona, this cooperative is a powerhouse, exporting its wines, vermouth, and olive oil to nearly 30 countries worldwide.
A bit of a throwback; while Cooperativa Marçà came into existence in 1912, Falset followed in 1917. The merger in 1999 aimed at enhancing wine and olive oil production.
Since then, with over 500 members and roughly 250 hectares of vineyards, they've continually focused on quality. And they aren't shy about embracing modern technology, as evidenced by their switch to stainless steel tanks and a revamped barrel room.
When it comes to grapes, they've got quite the assortment. With red varieties like Garnacha and Samsó, and whites such as Garnacha Blanca, this cooperative is in its element.
If you feel like visiting them, you'll get to uncover the charm of their historic cellar, built by Cesar Martinelli, which stands as an emblem of early 20th-century rural Catalonia.
25. Bell Cros
Lastly, let's swing by Montsant to the Swedish-owned Bell Cros. Founded by entrepreneurs Peter and Ann Skoglund, their goal is clear: present DO Montsant wines to the world.
With a blend of age-old traditions and a futuristic vision, they've crafted a team, led by renowned winemaker Joan Asens, that resonates with joy, pride, and an in-depth knowledge of winemaking.
Bell Cros isn't just the name of the winery; it also represents their wines. In Catalan, "Bell" means beautiful, and "Cros" translates to valley.
Their vineyards, some of which are over 50 years old, are tiny pockets of wonder influenced by the Mediterranean Sea. These climatic perks, combined with the region's soil, provide an ideal environment for viticulture.
Speaking of grapes, they majorly grow Carinyena and Garnacha, quintessential to the DO Montsant region. These form the backbone of their wine production, spanning red, white, and rosé varieties.
With plans to go organic, Bell Cros produces around 50,000 bottles annually. And for the wine enthusiasts? They've got a ton of activities and tastings lined up.
Is Barcelona known for wineries?
Yes, Barcelona is known for many great wineries located near the city. While Barcelona might be better known for its architectural marvels and beachy vibes, its proximity to some of Spain's best wine regions is a juicy secret. The city itself has a rich winemaking history, and its surroundings are sprinkled with remarkable vineyards.
Now, if you're a wine lover and Barcelona's on your radar, you're in luck. Beyond the city's bustling streets and historic neighborhoods, a world of winemaking awaits.
Venture just a bit outside the urban confines, and you'll find rolling hills dotted with vineyards, each with its own story and flavor profile.
Is there good wine in Barcelona?
Yes, there is some very good wine to be found in Barcelona. The city itself boasts an array of wine bars and cellars offering local pours that are bound to captivate your palate. In fact, many local restaurants and bars source their wines from nearby regions, ensuring that you're sipping on something truly Catalan.
What's also great is that in Barcelona, much like the rest of Spain, wine is relatively cheap, especially given the quality you'll get. You can easily get a good bottle for less than EUR 10, with a glass of wine in a bar often being only around EUR 3.
So the next time you're in a cozy Barcelona tavern or a chic rooftop bar, don't hesitate to ask for the house wine. You might just stumble upon a new favorite that's been crafted in the region – at a price point your wallet will also enjoy!
What wine is famous in Barcelona?
Cava is easily the type of wine that's most famous in Barcelona. This sparkling wine, often compared to Champagne, is Catalonia's pride and joy. Produced primarily in the Penedès region, just a stone's throw from Barcelona, Cava is a staple at celebrations and gatherings in the city.
But Cava isn't the only star in the Barcelona wine scene. Thanks to its location, Barcelona has access to a diverse range of wines from nearby regions, from the bold reds of Priorat to the refreshing whites of Alella.
Dive into the local wine bars and eateries, and you'll discover a variety of wines that are both traditional and innovative, capturing the essence of Catalonia in every sip.
What are the best cava wineries near Barcelona?
When it comes to cava, Barcelona is spoiled for choice. As the sparkling wine native to Spain, cava has a long history in the Catalonia region. The best cava wineries near Barcelona utilize local grapes like Xarel-lo, Macabeo, and Parellada to craft bubbly wines through the traditional method.
For an authentic cava experience, head to the Penedès wine region about an hour southwest of Barcelona. This is the heart of cava production in Spain. Top picks include:
Freixenet – The biggest cava producer in the world, Freixenet offers tours and tastings at their sprawling winery and cellars. Try their iconic Cordón Negro cava.
Recaredo – A family-run biodynamic winery focusing on premium cavas aged for over 30 years under cork. Their Terrers Xarel-lo cava is highly renowned.
Parés Baltà – With a history going back to 1790, this organic winery creates distinct cavas like the floral Blanca Cusiné. Take a tour through their vineyard estates – ideally paired with a trip to the nearby monastery at Montserrat!
Juvé & Camps – Operating since 1921, Juvé & Camps ages their cavas in medieval underground cellars for complex flavors. Their top cuvée is the Reserva de la Familia.
Codorníu – The oldest cava house dating from 1551. Tour their striking modernist winery and taste a range of cavas including Codorníu Anna.
Raventós i Blanc – Pioneers of sustainable practices in the region. Their premium De La Finca cava comes from a single organic vineyard.
Gramona – Specializing in long-aged Gran Reserva cavas, Gramona's cellars designed by Gaudí offer a one-of-a-kind experience.
For easy access from Barcelona, Cava wineries in Sant Sadurní d'Anoia like Freixenet and Codorníu make for excellent day trips to learn all about this quintessential Catalan wine.
What winery region is near Barcelona?
Located just southwest of Barcelona, Penedès is one of Spain's most important wine regions, especially known for producing the famed Cava. But there's more to Penedès than just bubbly. The region boasts a diverse landscape, which means you can find everything from crisp whites to robust reds.
This is because you'll find anything from coastal areas to mountainous zones, allowing for a wide variety of grapes to thrive.
But if you're planning a day trip to one of the wineries near Barcelona, Penedès is a no-brainer. With countless wineries offering tours and tastings, it's a paradise for wine enthusiasts.
Just imagine sipping on a glass of fresh Cava while overlooking the vineyards – pure bliss!