10 Best Barcelona Tipsy Tours (2023) – Great Pub/Bar Crawls! 
This article may contain affiliate links. Please read our
Disclosure Policy
for more information.
If you're looking for a unique way to explore Barcelona with, shall we say, some liquid culture as the main event, then you're in the right place!
As someone who lives in Spain and has spent a ton of time wandering the lively streets of Barcelona (which definitely includes its bars…), I've got the lowdown on the most fun and, yes, tipsiest tours this city has to offer!
I'm about to guide you through a selection of Barcelona's best bar and pub crawls. Whether you're a history buff with a love for the liquids or a foodie who fancies a drink or three with your tapas, there's a tour waiting for you here.
You'll end this article with a list of the best tipsy tours of Barcelona that aren't only super fun, but are a great way to meet some other fellow travelers!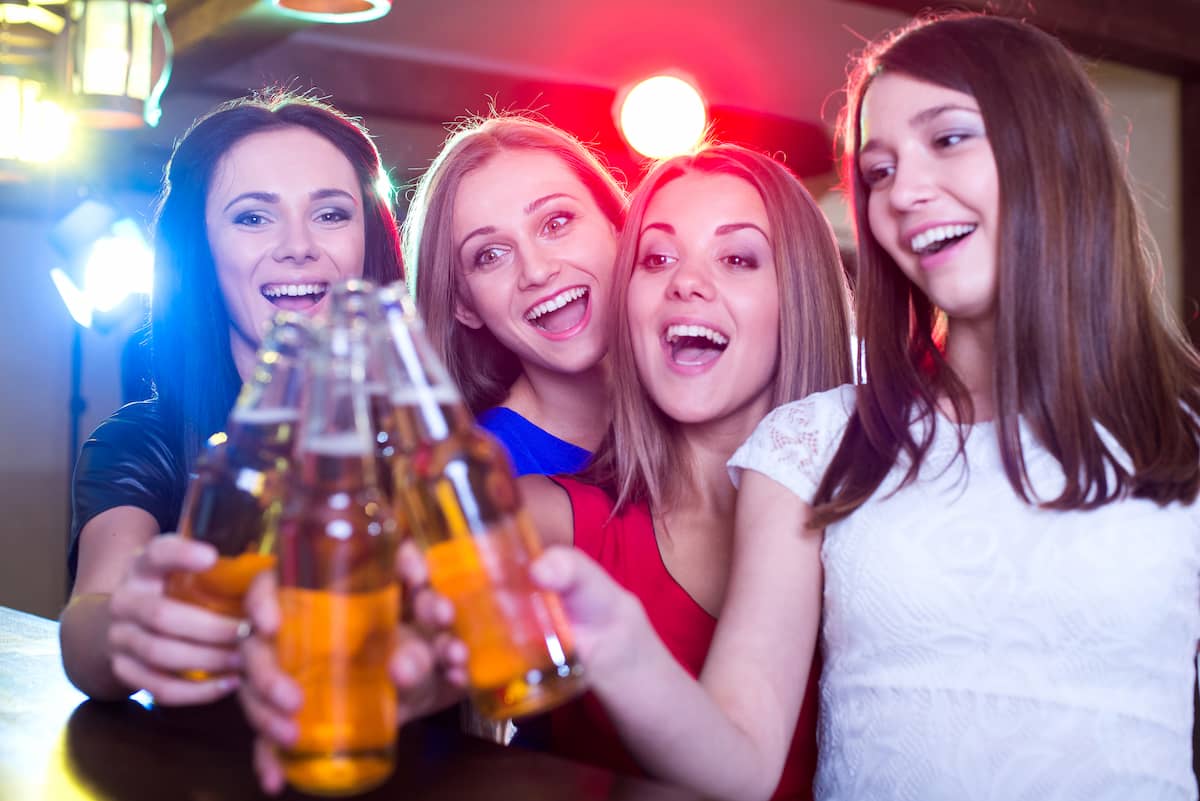 Best Barcelona tipsy tours
1. Barcelona Pub Crawl
Feeling like a social butterfly, ready to mingle and jingle? Then the Barcelona Pub Crawl is your perfect fit!
It's a fantastic way to discover the city's vibrant nightlife, sipping your way through back-street bars, cozy pubs, and chic cocktail lounges. Plus, who can say no to discounted drink deals, free shots at each bar, and free club entry?
With this tour, not only do you get to explore Barcelona's nightlife safely, but you'll also find yourself making new friends along the way. After all, nothing brings people together like shared laughs over drinks in a foreign city!
And the best part? You won't need to worry about capturing memorable moments, as your guide will double as your photographer for the night!
In the end, you'll get free entry to one of Barcelona's best clubs, making this tour a fantastic kickoff for a memorable night out. Cheers to that!
2. Tipsy Tour Bar Crawl in Barcelona with Local Guide
If you're keen on letting loose and meeting other adventurous souls, then the Tipsy Tour Bar Crawl in Barcelona with a Local Guide is right up your alley! This tour's all about sipping tantalizing local drinks, exploring vibrant bars and neighborhoods, and discovering Barcelona's wild side in a fun, unique way.
As you journey through the city's nightlife, you'll learn about Barcelona's twisted tales and intriguing local lore. Plus, you'll get to sample a true vermouth, taste authentic Catalan drinks, and even visit a trendy-themed bar where the best sangria is white.
(Yes, you read that right, there's actually white sangria – and it's really nice and fresh!)
After all the laughter, drinks, and dancing, your tour will end, but your night doesn't have to. Keep the party going in the city's hotspots, creating more unforgettable memories in beautiful Barcelona!
3. Old Town Evening Tour with Tapas and Drinks
Looking to explore Barcelona's culinary scene as the sun sets? The Old Town Evening Tour with Tapas and Drinks is your passport to a fantastic foodie (and drinks!) experience!
Join a local guide to explore Barcelona's vibrant tapas bars and bodegas in the enchanting Old Town.
Along the way, you'll enjoy an array of Spanish-style small dishes paired with four drinks – or soft drinks, if you prefer. Your guide will also introduce you to some of the secrets and hidden treasures of the Old Town, making it a great city tour of Barcelona – just with some refreshments along the way!
By the end of this tour, you'll be full of delicious food washed down with some seriously good drinks, along with some fascinating stories of the city. Plus, you'll have gained insights into the local culinary culture, along with personalized tips on the area's best bars and eateries!
4. Catamaran Party Cruise with BBQ
Sure, a pub crawl in Barcelona is great and all, but you know what's better than a party? A party on a boat, obviously!
The Catamaran Party Cruise with BBQ promises a fantastic mix of dancing, dining, and diving into the Mediterranean Sea. Yes, this is a party where you can take a swim break!
Once you climb aboard, the party begins with music and dancing as you cruise along Barcelona's coast. When you're ready for a bite, feast on an incredible BBQ meal right on board!
Plus, a couple of ice-cold beers or refreshing sangrias are included (not to mention unlimited soft drinks, just to add).
This is more than a party; it's a unique experience that combines the thrill of a boat ride with the fun of a dance party, topped with the deliciousness of a BBQ feast. Whether you want to dance the day away or sunbathe on the deck, this catamaran party cruise is a unique way to enjoy Barcelona!
5. Wine and Tapas Private Tour With Bites and Drinks Included
Are you a wine connoisseur with a love for tapas? Then the Wine and Tapas Private Tour with Bites and Drinks Included is tailored just for you!
This is the ultimate experience for wine lovers and food enthusiasts. Stray from the beaten path and visit local wine and tapas bars for an authentic, mouthwatering taste of Barcelona.
Your private guide will lead you to places where locals love to go, sharing stories and explaining the history and culinary culture of Barcelona. At each stop, you'll savor handpicked Catalonian wine and enjoy complimentary tapas, providing a comprehensive and delicious overview of local cuisine.
It's a private tour, which means you'll get personalized attention and the freedom to customize your experience. This makes the tour a truly unique and intimate journey into the heart of Barcelona's culinary scene.
6. Drunken History Walking Tour with Drinks Included
⭐ RATING: 4.9 out of 5 based on 110+ reviews
⌛ TOUR LENGTH: 3 hours
If you're looking for a Barcelona tipsy tour with a side of education, then the Drunken History Walking Tour with Drinks Included is for you. This tour offers you a chance to discover the city and some of its most iconic bars.
Experience local nightlife while meeting fellow travelers and tasting local drinks at four hip locations. As your night tour of Barcelona begins, you'll also get to meet some of the city's fascinating characters that will arise in the evening's history and hearsay.
Your next mission, if you choose to accept it (…sorry, couldn't help myself) is to sample the city's favorite drink, vermouth, and discover why it has a special place in Catalans' hearts.
Lastly, you'll have a round of cocktails or shots in popular local haunts. The experience officially finishes in a bar in Plaça Reial for our last drink, but remember, at 11pm, the night is still young!
7. El Born Food Walking Tour with Tapas and Drinks
⭐ RATING: 4.9 out of 5 based on 60+ reviews
⌛ TOUR LENGTH: 3 hours
The El Born Food Walking Tour with Tapas and Drinks will lead you on a culinary journey through Catalonia's history and culture – paired with drinks and tapas, of course! You'll explore the charming streets of El Born while soaking up the lively atmosphere.
This lively evening tour will take you to four of the best tapas bars in El Born, where you'll indulge in a delicious selection of traditional and modern dishes expertly paired with wine, cava, beer, and shots. So make sure you come with an empty stomach and a thirst for adventure!
Finally, with small group sizes and personalized attention from your guide, you'll have plenty of opportunities to connect with other fun-loving travelers and make some new friends.
8. Tipsy Tapas Guided Food Tour with Dinner and Drinks
⭐ RATING: 5 out of 5 based on 20+ reviews
⌛ TOUR LENGTH: 2.5 hours
Moving along, we have Barcelona's Tipsy Tapas Guided Food Tour with Dinner and Drinks. This tour will take you on a guided food journey through Barcelona's El Born neighborhood, offering a variety of drinks and tapas for you to savor.
Your knowledgeable and entertaining local guide will lead you to four of the best tapas bars in the area, offering a delicious selection of traditional and modern dishes.
And of course, what's a tapas tour without a variety of drinks? From crisp white wines and refreshing cava to full-bodied reds and ice-cold beers, there's a drink to suit every taste.
Finally, explore the charming streets and alleys of El Born, soak up the lively atmosphere of this vibrant neighborhood, and learn about the history and traditions of Catalan cuisine.
Make sure you come hungry, and get ready to experience the best of Barcelona's tapas and drinks culture on the Tipsy Tapas Food Tour!
9. Barcelona Bar Crawl with Flamingos
I can't forget about the Barcelona Bar Crawl with Flamingos. Go bar hopping through Barcelona and make some new friends while you're at it with this guided group tour.
You'll visit four different nightlife venues in total and get a total of five free shots! Although this tour isn't just about the drinks – it also includes a local guide who'll lead the way, fun games, and socializing with your fellow revelers.
As an added bonus, you'll get deals on drinks at many of the venues you visit. Plus, you'll get to walk around the Plaça Catalunya, Plaça Universitat, Las Ramblas, Rambla Catalunya, and Eixample areas at night, letting you live like a local in the heart of Barcelona's nightlife.
10. Catalan Nightlife Pub Crawl Tour VIP Club Entry
Finally, you have the Catalan Nightlife Pub Crawl Tour VIP Club Entry. This is your passport to an exhilarating night out in one of the globe's most energetic party capitals.
The Barcelona Pub Crawl takes you beyond the confines of a regular bar tour. The night begins with an optional 1.5 hours of free drinks (although just keep in mind that it's an extra €20), acting as your golden ticket to an unforgettable night in Barcelona.
You'll taste cocktails, plus all the usuals like gin and tonics,, complemented by a diverse selection of mixed beverages.
Finally, this exclusive party tour is topped off with three complimentary shots and includes entry to four (or sometimes more!) bars and clubs, drinking games, and a guide to make sure you're having the best time. It's an electrifying experience you don't want to miss!