Is Barcelona Worth Visiting? 25 Reasons Why (and Why Not!)
This article may contain affiliate links. Please read our
Disclosure Policy
for more information.
Ever found yourself daydreaming about warm, sun-drenched streets, dotted with stunning architectural marvels, or the tantalizing aroma of local cuisine…and wondered if there's one place that could tick all those boxes? Well, start packing your bags, as I may have just the place.
For all those reasons and much more, you may just find that Barcelona should be high on your "must go" list. After all, there's a reason it's so popular, right?
I mean, is Barcelona worth visiting? Well, as someone who's spent a considerable amount of time in Barcelona, I'm here to help show you just why the answer to that is a firm "yes" – with, let's be honest, a side of "maybe".
I'll walk you through all the reasons why visiting Barcelona is a good idea and, yes, also the reasons why it may not. Whether you're a seasoned globetrotter looking for your next adventure, or a first-time traveler deciding on a destination, I'll show you just why you may want to make sure your next stop is at the Catalan capital!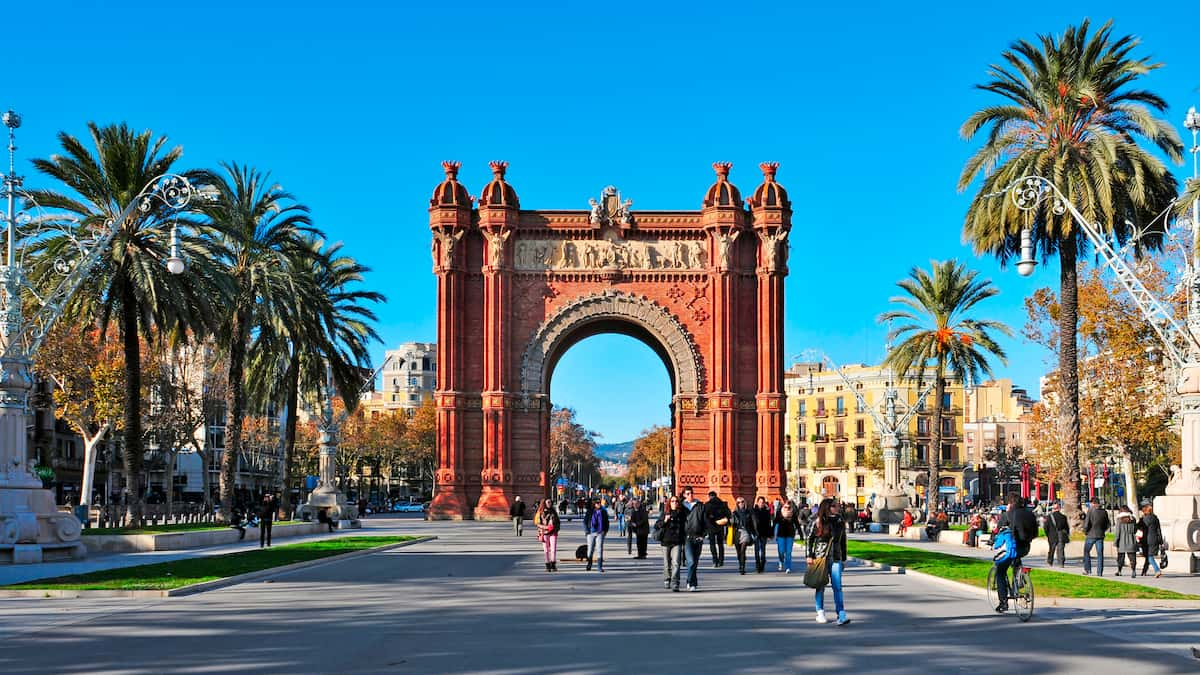 Why visit Barcelona
1. Architecture
Have you ever felt like stepping into a fairy tale? In Barcelona, you can do just that!
The city's architecture is one of the things that Barcelona's known for, characterized by a delightful mix of Gothic and Modernist styles. This dreamy cityscape is largely thanks to the famed architect Antoni Gaudí, whose distinctive designs seem to dance with whimsy and delight.
Crowning his creations is the Sagrada Familia, a towering basilica that feels more like a celestial vision than a mere building. Work began in 1882 and amazingly, it's still under construction, evolving as a testament to Gaudí's genius.
Wander through the enchanting Park Güell, another Gaudí's masterpiece, where colorful mosaics give life to dragon statues, twisted rock pillars, and serpentine benches with jaw-dropping views over Barcelona. Don't forget the Block of Discord, where Passeig de Gracia morphs into an architectural battleground of Modernista mansions.
2. Beaches
The heart of Barcelona beats just as strongly on its beaches as it does in its bustling city streets. Just a short stroll from the city center, you'll find over four kilometers of golden sand, sparkling blue waters, and a coastline that beckons for leisurely afternoons.
The star of the show is Barceloneta Beach, a magnet for sun worshippers, adrenaline seekers, and everyone in between. From soaking up the sun, surfing the waves, to simply strolling along the palm-fringed promenade, there's something for everyone.
And when the sun dips into the Mediterranean, beachside bars (chiringuitos) come alive with music, laughter, and the clink of ice in sangria pitchers.
3. Food and Wine
Get ready to embark on a culinary journey that will take your taste buds for a joy ride! Barcelona's food scene is a veritable playground for foodies, offering everything from Michelin-starred dining to humble family-run tapas bars.
You can't leave without trying traditional dishes like Paella, Patatas Bravas, or the unique 'Bomba' from Barceloneta. Pair your meal with a glass of Catalan wine or the iconic Cava, and you're in for a gastronomic treat.
Don't forget to visit the vibrant Mercat de la Boqueria, a market teeming with fresh produce, tantalizing tapas bars, and an array of local delicacies. The sights, smells, and tastes here encapsulate Barcelona's love for food and life.
4. Art Scene
From Picasso to Miró, Barcelona's art scene is as vibrant and diverse as the city itself. It's home to numerous museums, galleries, and open-air sculptures, making the city a paradise for art lovers.
The Picasso Museum houses one of the most extensive collections of the artist's work, providing a fascinating insight into his formative years. For a dose of surrealist art, head to the Joan Miró Foundation.
Street art also thrives in Barcelona, from intricate graffiti murals to installations like the pop-art lobster at Port Vell.
For the avant-garde, check out the Museum of Contemporary Art (MACBA), whose sleek, minimalist design contrasts completely with the majority of the historical architectural scene of Barcelona. It plays host to a rotating selection of cutting-edge exhibitions that will leave you contemplating long after your visit.
5. History
If the old stones could talk, oh, the stories they'd tell! Barcelona's rich history is beautifully preserved and interwoven with the city's modern vibrancy.
Wander through the winding, narrow lanes of the Gothic Quarter (Barri Gòtic), where remnants of the ancient Roman city coexist with bustling cafes and indie boutiques.
Visit the 13th-century Barcelona Cathedral, or explore the ancient ruins of the Roman Temple of Augustus. Not to be missed is the history museum, Museu d'Historia de Barcelona (MUHBA), which takes you on a journey from the Roman era to the present day, right beneath the city streets!
6. Shopping
Forget your usual shopping routine, because Barcelona's shopping scene is as eclectic and vibrant as the city itself. Start on Passeig de Gracia, a shopper's paradise lined with high-end international designer shops and Catalan labels.
Dig into the treasure trove of El Raval and El Born, where you can find everything from handmade leather goods to artisanal cheese. Don't miss a visit to the Mercat de Sant Josep de la Boqueria and Mercat de Sant Antoni for locally made products and food.
Book lovers, rejoice at La Central, a stunning bookstore in the heart of El Raval. And if you're in town on a weekend, don't miss the Els Encants flea market. Who knows what quirky finds await you!
7. Nightlife
When the sun sets, Barcelona dons its party hat. From intimate flamenco shows in Gothic cellars to dancing till dawn in world-renowned clubs, the city pulses with an irresistible energy.
Start your evening with a vermut (vermouth) in a local bodega, then as the night deepens, head to the clubs of Port Olympic or the hip bars in El Raval and Gracia. Barcelona's music scene is legendary, with festivals like Sónar and Primavera Sound drawing global crowds.
8. Festivals
Barcelona's calendar is packed with festivals, adding even more sparkle to the city's already vibrant atmosphere. La Mercè, the city's biggest street party, is a week-long festival in September full of concerts, traditional dances, and the stunning spectacle of human towers (castells).
For something a little quieter, but no less impressive, don't miss the Festa Major de Gracia in August. Each street in the Gracia neighborhood is decorated according to a different theme, transforming the district into a colorful, imaginative wonderland.
9. Football
Football isn't just a game in Barcelona; it's a way of life. The city is home to FC Barcelona, one of the most successful clubs in the world, and their stadium, Camp Nou, is a mecca for football fans.
Witness the thrill of a match day, join the chorus of tens of thousands of fans singing the club anthem, or take a behind-the-scenes tour to get a sense of the history and passion embedded in every corner of the stadium.
Whether you're a die-hard football fan or a casual observer, the electrifying atmosphere will leave you buzzing.
10. Parks and Green Spaces
Amid the city's hustle and bustle, Barcelona's parks and green spaces offer tranquil retreats where you can relax and soak up the Spanish sun. Besides the artistic Park Güell, there's the expansive Park de la Ciutadella, home to a picturesque lake, the city zoo, and the stunning Cascada Monumental fountain.
For an unparalleled view of the city, journey to Montjuïc, a broad hill hosting an array of attractions including the Montjuïc Castle, the Magic Fountain, and lush gardens. It's the perfect place to have a picnic while enjoying a panoramic sunset view over Barcelona.
11. Music
Barcelona's music scene is as diverse and vibrant as its citizens. The city is dotted with live music venues, from grand concert halls like the modernist Palau de la Musica Catalana to intimate jazz clubs in the heart of the Gothic Quarter.
Barcelona hosts the world-renowned Primavera Sound and Sónar festivals, attracting top international acts. Meanwhile, the city's streets come alive with the sounds of buskers adding an authentic soundtrack to your Barcelona experience.
From the classic Spanish guitar to the innovative beats of emerging DJs, there's a rhythm for every music lover in Barcelona.
12. Catalan Culture
Part of the allure of Barcelona is the strong sense of identity found in its Catalan culture. The Catalan language is prevalent here, and it's definitely not just a dialect of Spanish – it's a language in its own right, reflecting the pride the locals have in their heritage.
Experience traditional Sardana dances in front of the Barcelona Cathedral, or marvel at the towering human castells during local festivals. Be sure to try traditional Catalan dishes like 'escudella i carn d'olla' (a hearty meat and vegetable stew) or 'crema catalana' (a delightful custard dessert).
Immerse yourself in Catalan Modernism, an art and architectural movement that has left an indelible mark on the city's landscape. Explore the work of famous Catalan artists like Joan Miró at the Fundació Joan Miró, and see how this distinctive culture continues to thrive and evolve.
13. Modernist Buildings
The city of Barcelona is essentially an open-air museum of Modernist architecture. This artistic movement, characterized by its curves, intricate details, and rich decorations, flourished at the end of the 19th and beginning of the 20th centuries, creating some of the city's most iconic buildings.
Aside from the aforementioned masterpieces of Antoni Gaudí, there's Casa Lleó Morera and Casa Amatller on the renowned Block of Discord.
Venture beyond the city center to the Hospital de la Santa Creu i Sant Pau, a former hospital and now a UNESCO World Heritage Site. Its beautiful pavilions, adorned with multicolored tiles and stained glass, provide a mesmerizing journey into the past.
14. Markets
Barcelona's bustling markets are a feast for the senses, where locals and tourists alike gather to savor the freshest produce, seafood, meats, and cheeses. The Mercat de la Boqueria is the city's culinary heart, a hub of flavors, aromas, and colors.
Take a break from sightseeing to try a fresh fruit juice or to nibble on some artisanal cheese. In the trendy Sant Antoni district, the recently renovated Mercat de Sant Antoni boasts an array of food stalls during the day and a popular book and coin market on Sundays.
15. Weather
Barcelona's weather is the icing on the cake, a proverbial cherry on top of an already attractive city. Boasting a mild, Mediterranean climate, the city enjoys sunshine for the majority of the year, making it an ideal destination for both summer vacations and winter escapes.
Expect hot, sunny summers perfect for beach days and balmy evenings, while the milder winters invite leisurely exploration without the discomfort of extreme cold. The pleasant weather means that life in Barcelona is often lived outdoors, adding to the city's lively atmosphere.
16. Hospitality
One of the most compelling reasons to visit Barcelona is its people. Known for their warmth, the locals are a big part of what makes the city so special.
Whether you're getting lost in the labyrinthine streets of the old town, dancing in a local fiesta, or just enjoying a siesta in a park, you'll feel welcomed.
You'll find a vibrant mix of people in Barcelona, from the passionate barista who prepares your morning coffee to the knowledgeable guide sharing the city's secrets. The city is not only beautiful, but it's also filled with life and soul – a testament to the Barcelonins who call this city home.
17. Language
While Spanish is widely spoken and understood, you'll quickly notice that Barcelona sings to the tune of another language: Catalan. This language, both robust and melodic, is a core part of the city's identity and adds an extra layer of richness to your visit.
Take the opportunity to learn a few phrases – a simple 'Bon dia' (Good day) or 'Gràcies' (Thank you) can be a delightful way to interact with the locals.
You'll also find street signs, menus, and various information in both Catalan and Spanish, further highlighting the distinctive blend of cultures in Barcelona.
18. Street Art
While Barcelona boasts numerous traditional museums and galleries, some of its most intriguing art can be found in the streets. From El Raval to Poblenou, the city's walls, shop shutters, and abandoned buildings serve as canvases for local and international artists.
Street art in Barcelona ranges from intricate murals that cover entire building facades to more subtle works that you might miss if you're not looking closely. Walking around the city becomes an urban art safari, adding a pop of color and creativity to your Barcelona exploration.
19. Museums
The city's extensive array of museums offer a feast for the curious mind. Explore the maritime history of Barcelona at the Maritime Museum, or dive into the fascinating world of illusions at the Museum of Illusions.
Don't miss the MUHBA, where you can uncover Barcelona's Roman origins. If you're into unique finds, the Perfume Museum or the Shoe Museum might just be your niche.
For families, CosmoCaixa provides interactive science exhibitions that will entertain both kids and adults.
20. Proximity to Other Destinations
Barcelona's location makes it an excellent starting point for exploring the broader region of Catalonia and other parts of Spain. The beautiful beaches of Costa Brava, the monastery of Montserrat, the Roman ruins of Tarragona, or the charming medieval town of Girona, are all within a day-trip distance.
High-speed trains can whisk you off to Madrid, Valencia or Seville for an extended exploration. Even France is easily accessible, with the border just a couple of hours away by train. This connectivity allows you to combine your city break with various exciting escapades.
Why you may not want to visit Barcelona
1. Crowds of tourists
Barcelona's undeniable charm attracts millions of visitors every year, and with them, quite the crowd, especially during the summer months and during major festivals. Landmarks like La Sagrada Familia and Park Güell can get pretty packed, and queues can be long.
But hey, don't let this discourage you! A great trick is to visit these hotspots early in the morning or later in the day when the crowds are thinner.
Plus, the city's wide array of attractions ensures that there are always quieter, off-the-beaten-path gems waiting to be discovered!
2. Pickpocketing
Like in any major city, pickpocketing can be an issue in Barcelona, particularly in crowded tourist areas and on public transportation. But fear not, a few sensible precautions can help you avoid this annoyance.
Stay alert and mindful of your belongings, particularly in crowded areas. Use bags that close securely and keep them in your sight at all times.
Remember, the city isn't a hotbed of crime, and a little vigilance goes a long way in ensuring your visit is hassle-free and enjoyable.
3. Cost
Barcelona is one of Spain's more expensive cities, and dining at waterfront restaurants or staying in centrally-located hotels can quickly add up. However, a trip to Barcelona doesn't have to break the bank!
The city offers plenty of budget-friendly options for food and accommodation, especially if you step away from the most touristy areas.
For instance, many museums have free-entry days or times, and strolling through the city's vibrant neighborhoods costs absolutely nothing! Barcelona can cater to every wallet size – you just need to know where to look.
4. Language Barrier
While Catalan and Spanish are the main languages spoken in Barcelona, English is not as commonly used outside of tourist areas and younger generations. This might pose a slight challenge, but it's part of the fun, right?
Most Barcelonins working in tourism will speak English, and even if you venture out, a bit of charades and a smile can get you a long way. Remember, it's also a great opportunity to learn a few phrases in a new language. A little 'per favor' (please) and 'gràcies' (thank you) will work wonders!
5. Tourist Traps
With its popularity, some areas in Barcelona have earned a reputation for being 'tourist traps', offering sub-par services at inflated prices, especially around Las Ramblas. But, let's not be hasty and paint the whole city with the same brush.
With a little research and an adventurous spirit, you'll find authentic experiences aplenty. Seek out where the locals eat and shop, venture into less-touristy neighborhoods, and you'll be rewarded with genuine Catalan hospitality and a real taste of Barcelona.
Remember, every city comes with its set of challenges, and Barcelona is no exception. But its vibrant culture, stunning beauty, and the warmth of its people far outweigh these minor inconveniences.
With a dash of awareness and a pinch of preparation, your Barcelona experience will be filled with nothing but "Bonissims moments!" (Fantastic moments!).
FAQs
Is Barcelona Worth Visiting?
Absolutely, without a doubt, Barcelona is worth visiting! This city is a dazzling tapestry woven with threads of history, architecture, culture, and gastronomy. It offers experiences to suit every traveler, from sun-seekers and foodies to history buffs and football fans.
Crowded spots and pickpocketing risks may pose minor challenges, but a bit of common sense and vigilance will help you navigate these safely.
Barcelona, with its unbeatable combination of beautiful beaches, stunning architecture, delicious food, rich history, and vibrant nightlife, offers a value that far outweighs its challenges.
Why Would You Want to Visit Barcelona?
You would want to visit Barcelona because it has something to charm everyone. With its breathtaking architecture, both ancient and modern, it's a feast for the eyes. Art lovers can find works from renowned artists like Picasso and Miró, as well as a bustling contemporary art scene. For foodies, the city offers tantalizing Catalan cuisine and world-class wines.
And the experiences! Where else can you spend a morning exploring a Roman city, an afternoon lounging on a Mediterranean beach, and an evening sipping sangria on a rooftop bar overlooking a world-renowned skyline?
The memories you create in Barcelona will be as rich and varied as the city itself.
What is So Great About Barcelona?
What's great about Barcelona? The better question would be, what isn't great about Barcelona? This city is a vibrant metropolis, rich with history, teeming with culture, and bursting with life.
Its architectural landscape is a delightful mix of Gothic grandeur and Modernist imagination. Its gastronomic scene is a journey of flavours, from rustic tapas bars to Michelin-starred restaurants. The people, full of warmth and pride in their Catalan heritage, add a unique charm to the city.
What's truly great about Barcelona is its spirit. It's a city that invites you to explore, to taste, to dance, to dream. It's a city that captures your heart, not just with its sights, but with its soul.
Why Do People Like Barcelona So Much?
The love for Barcelona stems from its diverse and appealing characteristics. It's a city that effortlessly combines the historic with the contemporary, the urban with the natural, and the relaxed with the vibrant. People are enamored by its architectural marvels, picturesque beaches, and delectable cuisine.
Moreover, Barcelona's lively festivals, passionate football culture, and intriguing street art provide a unique cultural immersion. But most importantly, it's the city's welcoming and lively spirit that visitors find so captivating – a sentiment that often leads them to return time and again.
Why is Barcelona So Touristy?
Barcelona captivates visitors with its unique blend of historic charm, innovative architecture, especially Gaudí's masterpieces, and its prime spot along the Mediterranean Sea. Coupled with its pleasant climate and a rich culinary scene, the city becomes an irresistible destination.
The global spotlight from hosting the 1992 Olympics further bolstered its appeal, leading to increased accessibility and infrastructure upgrades.
Beyond its landmarks, Barcelona is rich in culture, evident in its museums, the atmospheric Gothic Quarter, and vibrant local festivals like La Mercè. Sports enthusiasts often visit Camp Nou to witness the renowned FC Barcelona play.
Meanwhile, the city's diverse nightlife ranges from bustling clubs to tranquil rooftop bars, ensuring there's something for every kind of traveler. The fact that there's just so much on offer keeps Barcelona firmly on the global tourism map.
Is Barcelona Too Touristy?
Barcelona is a popular tourist destination, and there's no denying that some areas can feel quite touristy, especially during peak seasons. Places like Las Ramblas and Passeig de Gracia are typically bustling with visitors. However, Barcelona is also a city of hidden corners, quieter neighborhoods, and authentic experiences.
You can escape the tourist hustle by exploring lesser-known districts like Gràcia or Poblenou, or by seeking out local hangouts and hidden gems. In Barcelona, you can choose to be as "touristy" or as "local" as you wish!