Ultimate Guide to the Old Town of Valencia (From a Local!)
This article may contain affiliate links. Please read our
Disclosure Policy
for more information.
Valencia's Old Town is a treasure trove of history and culture, with winding medieval streets, stunning Gothic architecture, and a plethora of attractions to explore. From ancient landmarks to modern art galleries, there's something for everyone in this vibrant neighborhood.
But with so much to see and do, it can be hard to know where to start. So, if you're planning a trip to Valencia and want to know what to see in the Old Town and just why it makes Valencia worth visiting, read on.
You won't want to miss what I've discovered hidden in the heart of this fascinating district. And if you're a foodie, make sure to stick around until the end as don't worry, I've got you covered too.
How to Get to the Old Town in Valencia
If you're coming from outside of Valencia, you'll most likely arrive at Valencia Airport. From there, taking a metro-bus combination is a convenient and affordable option, with several stops located throughout the area.
If you prefer to take a taxi, be sure to use the official taxi stand or get one through the Cabify app, so you know it's legit.
Where to Stay to See the Valencian Old Town
Valencia is extremely walkable and staying in the Old Town itself can be a great experience. This is clearly why it's one of the more popular areas for visitors to Valencia to stay in.
That said, you don't necessarily need to do so to enjoy the Old Town as you'll definitely see it as part of your wandering around Valencia, no matter where you end up sleeping at night.
But there's certainly a charm in staying in the Old Town, with its narrow streets peppered with spectacular street art, beautifully colored buildings with charming balconies overlooking everything and more restaurants than you could ever hope to eat at!
So if you prefer to stay in the center of the action, don't worry as there are plenty of accommodation options in Old Town Valencia, ranging from budget-friendly hostels to luxury hotels.
When is the Best Time to Visit the Old Town in Valencia?
Valencia enjoys a Mediterranean climate, with mild winters and hot summers. For this reason, the best time to visit Old Town Valencia is during the spring or fall, when the weather is mild and there are fewer crowds.
Of course, if you're interested in attending one of Valencia's many festivals, such as Las Fallas or La Tomatina, you'll be visiting during the corresponding dates – and that's more than fine!
Just keep in mind that the middle of March, when Las Fallas is in full swing, is prime time for tourists so the Old Town will be busy. In addition, summers can be hot and crowded, so it can get a bit sticky in the Old Town's narrow streets.
History of the Old Town, Valencia
If you're visiting Valencia, you simply can't miss the Old Town, also known as Ciutat Vella. This historic center has a rich and diverse history, with influences from Roman, Muslim, and Christian cultures. Let's take a closer look at the different periods that shaped Old Town Valencia.
Roman Valencia
Valencia was founded by the Romans in 138 BC, and the Old Town still bears the marks of their presence. One of the most iconic landmarks is the Plaza de la Virgen, which was once the site of the Roman forum.
You can also visit the Almoina Archaeological Center to see the remains of a Roman theater and baths. In fact, if you go behind the Basilica that overlooks this plaza, you can look down for free through a glass floor to the ruins below.
Muslim Valencia
From the 8th to the 13th century, Valencia was under Muslim rule, and this period left a lasting impact on the city's architecture and culture. One of the most famous examples is the Torres de Serranos, a set of imposing towers that once formed part of the city's defensive walls.
Consider also visiting the Almudin, a former Muslim granary that now houses temporary art exhibitions.
Christian Valencia
After the Christian conquest of Valencia in 1238, the Old Town underwent a period of growth and prosperity.
This is when many of the city's most iconic landmarks were built, including the Cathedral of Valencia and the Lonja de la Seda, or Silk Exchange. The latter is a UNESCO World Heritage Site and is considered one of the finest examples of Gothic civil architecture in Europe.
As you can see, the Old Town of Valencia has a rich and diverse history that is just waiting to be explored. Whether you're interested in Roman ruins, Muslim architecture, or Christian art, you're sure to find something that fascinates you in this vibrant and historic part of the city.
What to See in the Old Town, Valencia
There's no question that the sights of the Old Town have to be on your must-do list when you're visiting Valencia.
Fortunately, they're all relatively close together, so you can easily dedicate even one (pretty packed!) day to see all of these – although feel free to stop for some tapas and wine on the way to make it a two-day affair!
Plaza de la Virgen
Plaza de la Virgen is a must-visit destination for anyone visiting Valencia, and it's easy to see why. The square is surrounded by stunning architecture and is home to a number of monuments, fountains, and cafes.
One of the most striking features of the Plaza de la Virgen is the impressive fountain in the center of the square. The fountain features a statue of the Turia River, which has played an important role in the history of Valencia. You can sit on the benches around the fountain and watch the world go by, or grab a drink at one of the cafes and enjoy the atmosphere.
Another highlight of the Plaza de la Virgen, as I'll get to in a bit more detail below, is the Basílica de la Virgen de los Desamparados, which is located on one side of the square. This stunning basilica is dedicated to the patron saint of Valencia and is a popular destination for pilgrims. The basilica is open to visitors, so be sure to take some time to explore the interior and admire the beautiful artwork and architecture.
If you're feeling hungry, there are plenty of restaurants and cafes around the Plaza de la Virgen where you can grab a bite to eat. One of the most popular restaurants in the area is Seu Xerea, which serves up delicious Mediterranean cuisine in a beautiful setting.
If you're looking for something more casual, there are plenty of cafes where you can grab a coffee and a pastry and watch the world go by.
Valencia Basilica
As just mentioned, Valencia Basilica – or the Basílica de la Virgen de los Desamparados (the Virgin of the Forsaken) to use its full name – is the beautiful home to the shrine of the Virgen de los Desamparados, the patron saint of Valencia. There's no question that it's a must-see attraction for anyone visiting the city.
The Valencia Basilica was built on the ruins of the Roman forum and construction began in 1652. The basilica was continually added to over almost two centuries, with its final completion in 1824. The result is a stunning example of Baroque architecture that is sure to take your breath away.
One of the most striking features of the Valencia Basilica is its dome. Unlike most basilicas, the dome is not central but located in the part nearer to the Cathedral. This unique design adds to the basilica's charm and makes it an even more interesting sight to behold.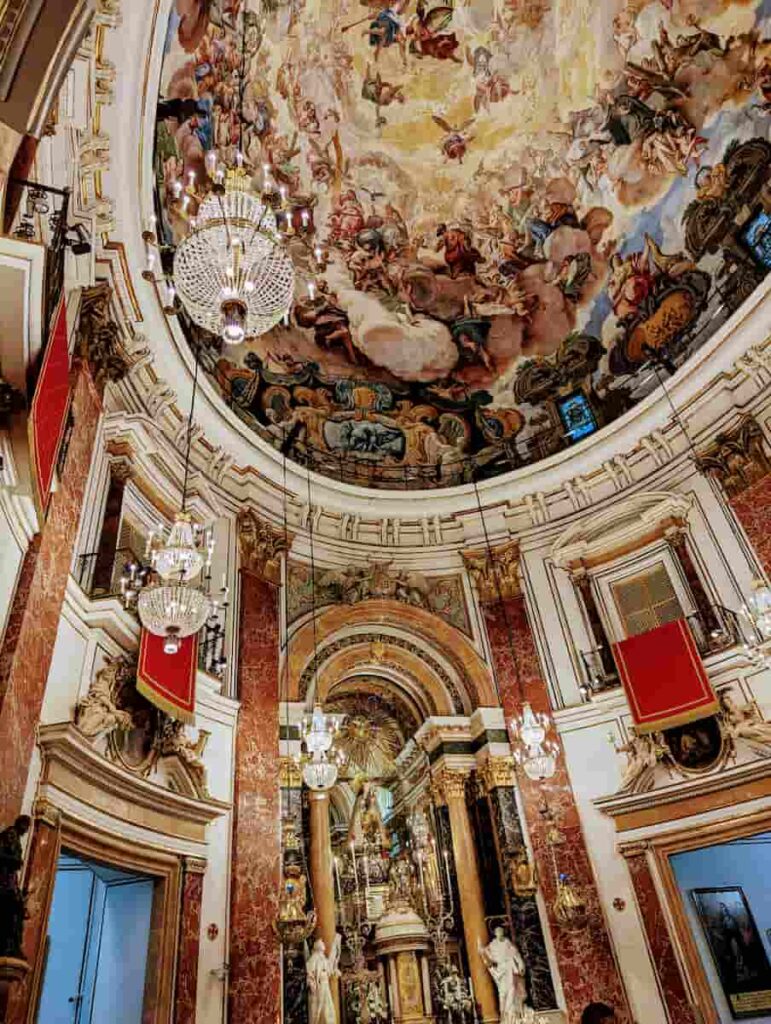 Inside the basilica, you'll find a wealth of stunning artwork and religious iconography. The altar is particularly impressive, featuring intricate carvings and gold leaf accents that are truly breathtaking. For me, though, it's the ceiling inside that's the real highlight, with beautiful paintings that will have you craning your neck to see every last detail.
That said, at the altar, keep an eye out for the statue of the Virgin herself. You'll see her neck at such an angle that it's said she's serenely looking down on all of us – but, fun fact, that's not actually true! Instead, she used to be positioned lying down with a pillow under her neck. Someone at some point stood her up and so the poor woman is now doomed to an eternity of poor posture!
Whether you're religious or not, the Valencia Basilica is a sight that you won't soon forget.
Mercado Central
If you're looking for a taste of Valencia's local cuisine, there's no better place to start than the Mercado Central. This historic market is located in the heart of the city's Old Town and is one of the largest indoor markets in Europe.
With over 1000 stalls, you'll find everything from fresh seafood and meat to fruits, vegetables, and local wines. Whether you're a foodie or just looking to experience the local culture, the Mercado Central is a must-visit destination.
One of the highlights of the market is the fresh seafood. You'll find everything from octopus and squid to shrimp and lobster. If you're not sure what to try, ask one of the friendly vendors for a recommendation. They'll be happy to help you find something that suits your tastes, along with tips on how to prepare it.
In addition to the food, the Mercado Central is also a great place to shop for souvenirs. You'll find a variety of local crafts and products, including ceramics, textiles, and leather goods. And if you're looking for a unique gift to take home, you'll easily find local Valencian cheese and wine here from brands that aren't often seen in stores.
Overall, the Mercado Central is a must-visit destination for anyone visiting Valencia's Old Town. With its historic architecture, friendly vendors, and incredible selection of food and souvenirs, it's a true gem of the city. Just keep in mind that it's only open until 2pm every day except Sundays, when it's closed.
Silk Exchange
If you want to experience the rich history of Valencia, you must visit the Silk Exchange in the Old Town. This beautiful building, known as La Lonja de la Seda in Spanish, is a UNESCO World Heritage Site and one of the most famous Gothic monuments in Europe.
It was built in the 15th century and was used as a trading center for silk, which was a significant industry in Valencia at the time.
As you walk through the building, you will be amazed by the stunning architecture and intricate details. The Tower, the Sea Consulate Room, the Orange-tree Patio, and the Room of Columns are the four parts of the Silk Exchange. The fortress-like appearance of the building's stone walls is similar to old medieval castles.
The Silk Exchange is open from Monday to Saturday from 10:00 until 19:00 and on Sundays from 10:00 until 14:00. The entry fee is only €2, making it a bargain for visitors. Students and elderly people can enter for €1, and entry is free on Sundays and holidays.
If you're interested in the history of the silk industry in Valencia, you can visit the Silk Museum in the nearby neighborhood. Here you can see textile collections and working 18th-century looms. The museum also has the largest European archive of the silk trade and an interesting shop selling silk products.
Don't miss the opportunity to visit the Silk Exchange and learn about Valencia's rich history. You'll be amazed by the beauty of the building and the fascinating history of the silk industry in Valencia.
Torres de Serranos
For one of the most imposing slices of history in Valencia's Old Town, the Torres de Serranos is a must-visit. These towers were built in the 14th century under the supervision of Pere Balaguer and served as the main entrance to the city.
Originally built for defensive purposes at one of the busiest city gates, the towers were also used as a prison for nobles from 1586 until 1887.
Today, the towers are a popular tourist attraction and offer stunning views of the city from the top. The climb to the top is steady, but the different viewpoints and stairs make it an enjoyable experience.
The Torres de Serranos is one of the two remaining parts of Valencia's former city wall, the other part being Torres de Quart just over the other side of the city.
The admission charges are reasonable at €2, although children, students and elderly people can enter for €1. The towers are open from Monday to Saturday from 10 a.m. to 2 p.m. and from 3 p.m. to 7 p.m, while they're open on Sundays and public holidays from 10 a.m. to 2 p.m. In winter, the closing time varies depending on the level of daylight. On rainy days, the monument is closed for safety reasons.
Cathedral of Valencia
The history and architecture of Valencia are apparent in the Cathedral of Valencia. This impressive structure sits at the heart of the old town of Valencia and links two of El Carmen's most iconic plazas – Plaza de la Reina and Plaza de la Virgen.
The Cathedral is a mix of architectural styles, including Gothic, Romanesque, and Baroque. It was built on the site of an earlier mosque and was begun in the 13th century, with several changes and additions before it was finished in the 17th century. The tower, "el Miguelete," is one of the symbols of the city and offers stunning views of Valencia from the top.
Inside the Cathedral, you'll find many treasures, although the main reason to come here is that you'll find what has been deemed to be the most likely candidate for being the real Holy Grail. Whether you want to enjoy this from a religious or historical perspective, it's certainly something to see.
The Cathedral also houses several chapels, each with its unique style and decorations. One of the most impressive chapels is the Chapel of the Holy Chalice, which contains the chalice itself.
Make sure to take your time exploring the Cathedral, as there is much to see and appreciate. Admire the intricate details of the architecture, observe the beautiful stained-glass windows, and take a moment to reflect in the quiet and peaceful atmosphere. The Cathedral of Valencia is a true gem that you won't want to miss.
Plaza del Ayuntamiento
If you're looking for the heart of Valencia's Old Town, look no further than La Plaza del Ayuntamiento, or City Hall Square. This bustling square, located in the southern half of the Old Town, is anchored by its eponymous town hall, which dominates the plaza with its palatial façade and chimes out the hours with its bells.
Surrounding the town hall are other buildings from Valencia's golden age, such as the Correos (the main post office) and the Edificio de la Generalitat Valenciana (headquarters of the Valencian government). The square is also home to a beautiful fountain, which is surrounded by flower stalls offering blooms in all colors, sizes, and varieties imaginable.
La Plaza del Ayuntamiento is a hub of activity year-round, but it's especially lively during festivals and events.
During Las Fallas, Valencia's most famous festival, the square is transformed into a bustling fairground, complete with carnival rides, food stalls, and fireworks displays. And during Christmas, the square is home to a bustling Christmas market, where you can find everything from handmade gifts to traditional holiday treats.
But even outside of the major festivities, the square is always alive with people either wandering through or simply hanging out. You're more than welcome to do the same!
Marques de Dos Aguas Palace
Whether you choose to go inside or simply walk past, the Marques de Dos Aguas Palace is a must-see attraction in Valencia's Old Town. This stunning Baroque-style building was once the home of the Marqueses of Dos Aguas, although it's now owned by the Spanish State.
The palace's most impressive feature is its alabaster entrance, which was built in the 18th century and is adorned with intricate carvings of the Virgin Mary and two streams of water.
Today, the palace is home to the González Martí National Museum of Ceramics and Decorative Arts. The museum's collection includes over 20,000 pieces of ceramics, porcelain, and glassware, as well as furniture, textiles, and other decorative arts. Visitors can explore the palace's grand halls and rooms, which are decorated with ornate frescoes, sculptures, and chandeliers.
If you're interested in learning more about the history of the palace and its former owners, be sure to take a guided tour. The knowledgeable guides will take you through the palace's many rooms and share stories about the Marqueses of Dos Aguas and their lavish lifestyle. You'll also learn about the palace's role in Valencia's history and its significance as a cultural landmark.
Santa Catalina Tower
If you're looking for breathtaking views of Valencia's Old Town, be sure to visit the Santa Catalina Tower. This beautiful seventeenth-century Baroque bell tower is located in the heart of the city and is a must-see attraction for anyone visiting Valencia.
The tower's hexagonal shape is reminiscent of the Miguelete, the tower adjacent to the Cathedral. As you climb to the top, you'll be rewarded with stunning panoramic views of the city, including the beautiful Plaza de la Reina and Santa Catalina church.
Originally built as part of the Santa Catalina church in the Middle Ages, the tower has become a landmark in Valencia. It's also the entrance to the popular Barrio del Mercat, one of the city's most vibrant neighborhoods.
Street Art
Valencia is a city that has been steadily growing its reputation as a street art destination in recent years. While there are many areas where you can find stunning street art, the Old Town stands out as a must-visit destination for street art enthusiasts.
Valencia's El Carmen neighborhood, in particular, is an area in the Old Town that boasts some of Valencia's most impressive street art. The streets here are narrow, winding, and lined with historic buildings, and they provide the perfect backdrop for some truly stunning murals.
If you start your street art journey from Plaza del Tossal, you should then head down some of the nearby streets of Carrer de Dalt, Carrer de Baix and Carrer de Llíria. Check down each smaller street you go past so you can duck down and check out any of the street art that's down each one.
Plaza Redonda
While making your way through Valencia's Old Town, you should take a few moments to duck into Plaza Redonda. This hidden gem, tucked away between narrow streets, is a circular plaza that boasts an enchanting atmosphere. As you step into this little oasis, you'll instantly feel transported to a different time.
The plaza is surrounded by picturesque whitewashed buildings adorned with wrought-iron balconies, creating the perfect backdrop for a leisurely stroll or a photo opportunity. The heart of the plaza is filled with a bustling market, where you'll find an array of stalls selling traditional Spanish goods, from colorful ceramics to handcrafted fans and intricate lacework.
And on Sundays, the market turns into a lively stamp and coin exchange, attracting collectors and enthusiasts from near and far.
While you're there, you could always visit the quaint little cafes and bars lining the plaza, offering a warm respite and the opportunity to indulge in some scrumptious Valencian delicacies!
Casa de los Gatos
In the old town of Valencia, you'll stumble upon a delightful surprise nestled on Carrer del Museu – the Casa de los Gatos, or "House of Cats." This tiny, enchanting house, built into the wall, has become a popular spot for tourists and locals alike to snap a photo and share a smile.
The house features a small window and door, adorned with intricate tilework, and is often guarded by one or two resident cats who seem to enjoy the attention from passersby. It's said that the house was built for the purpose of sheltering stray cats in the area, giving them a cozy place to rest and call their own.
You only need a few minutes to add this hidden gem to your Valencia itinerary, but it's worth making the effort. After all, a visit to the Casa de los Gatos is a wonderful way to embrace the city's charm and whimsy, and who knows, you might just make a new feline friend along the way!
Cultural Center of El Carmen
Another must-visit destination in the old town of Valencia is the Cultural Center of El Carmen, an architectural marvel that combines history, art, and contemporary design. Located in the heart of the El Carmen neighborhood, this impressive complex is a striking example of Valencian Gothic architecture with a modern twist.
Originally a convent built in the 13th century, the Cultural Center of El Carmen has been masterfully restored and converted into a thriving hub for contemporary art exhibitions, workshops, and cultural events. As you wander through the sprawling courtyards and serene cloisters, you'll be captivated by the seamless blend of ancient stone arches, original frescoes, and sleek glass and steel elements that make this space truly unique.
The center regularly hosts a variety of temporary exhibitions, showcasing works by both local and international artists. With a focus on promoting contemporary art and fostering creativity, the Cultural Center of El Carmen offers a diverse and engaging cultural experience for visitors.
Beyond the exhibitions, the building itself is a sight to behold.
The beautifully preserved Gothic architecture, contrasted with the modern additions, creates a harmonious balance between the past and the present. The peaceful gardens and inviting courtyards provide the perfect setting to unwind and take in the tranquil atmosphere.
Museums
Valencia's Old Town is home to some of the most fascinating museums in Valencia that will transport you through time and space. Whether you're interested in art, science, or history, there's a museum for you in Valencia. Here are a few of the top museums to check out during your visit:
Museum of Fine Arts of Valencia: This museum's collection includes works by Spanish masters like Velázquez, Goya, and Sorolla, as well as international artists like Van Dyck and Murillo. The building itself is a work of art, with its beautiful Baroque façade and stunning interior courtyard.
Ceramics Museum: Valencia has a long and rich tradition of ceramic arts, and this museum showcases the best of the best. The collection includes pieces from ancient times to the present day, with a focus on the traditional Valencian style known as "Majolica."
IVAM – Valencian Institute of Modern Art: Located on the edge of the Old Town, this museum is a going to be a must-visit for contemporary art enthusiasts. The collection includes works by famous artists like Picasso, Miró, and Warhol, as well as up-and-coming local artists. The building itself is a work of art, with its striking modern architecture and sleek interior design.
Centre Julio González: This museum is dedicated to the life and work of the Catalan sculptor Julio González. The collection includes many of his most famous pieces, as well as works by other artists who were influenced by him. The museum is housed in a beautiful historic building in the heart of the Old Town.
Silk Museum: Valencia was once a major center of the silk trade, and this museum tells the story of that industry. The exhibits cover everything from the history of silk production to the techniques used to create beautiful silk fabrics. Don't miss the chance to see a live demonstration of silk weaving!
Restaurants
Valencia's Old Town is a culinary paradise with a wide range of restaurants that offer traditional Spanish cuisine, Mediterranean dishes, and international flavors. Whether you're looking for a quick bite or a fine dining experience, you'll find plenty of options in the Old Town.
If you're in the mood for some authentic Spanish cuisine, head to El Carmen, one of the busiest neighborhoods in the Old Town. Here, you'll find numerous restaurants that serve tapas, paella, and other local specialties.
If you're looking for a fine dining experience, Valencia's Old Town has plenty of options to choose from. For instance, El Poblet is a two Michelin-starred restaurant that is known for its innovative cuisine and impeccable service.
If you're on a budget, don't worry. Valencia's Old Town has plenty of affordable dining options as well. Many restaurants offer a "menu del dia" or a daily set menu that includes a starter, main course, dessert, and a drink for a fixed price. You can find these menus at most restaurants during lunchtime.
When it comes to drinks, Valencia is famous for its horchata, a refreshing drink made from tiger nuts. You can find many horchaterias in the Old Town that serve this delicious drink, although Horchatería Santa Catalina should be your go-to.
Overall, Valencia's Old Town is a foodie's paradise with plenty of options to suit every taste and budget.
Bars
Valencia's Old Town is known for its vibrant nightlife scene, and the bars are a big part of that. Whether you're looking for a cozy spot to enjoy a glass of wine or a lively bar to dance the night away, you'll find plenty of options in the Old Town.
Plaza Negrito is a great little spot to have a drink in the afternoon or evening to recharge after a long day of walking around. There are a couple of bars around this square and while their tapas are just fine, it's a great location to have a drink with the fountain gurgling peacefully in front of you.
Down the road from there, you'll find Restaurante Bocatin, which is one of the most iconic places to get a vermouth in the area. You can also snack on some really good tapas or pintxos here.
Another great spot to check out is Cafe de las Horas, located just off Plaza de la Virgen. Sure, it's a bit touristy, but this charming bar is known for its unique decor and cozy atmosphere. In particular, Cafe de las Horas is renowned for its agua de Valencia, a local cocktail made from Valencia's famed oranges that you have to try while you're here.
If you're more of a craft beer sort of person, stop by Tyris on Tap. It's Valencia's own craft beer and they have a great bar around the corner from La Lonja. Their outdoor seating area is especially popular in the evenings so is a great spot for trying some of the local "culture" alongside the locals.
That said, you honestly won't have any trouble finding a great, local bar in the Old Town. In fact, you'll stumble across one on almost every corner so just keep an eye out for one that seems to be moderately busy with locals and you'll be good to go.