5 Days in Valencia: The Ultimate Itinerary (From a Local!)
This article may contain affiliate links. Please read our
Disclosure Policy
for more information.
Are you planning a trip to Valencia and feeling overwhelmed by the city's rich offerings? Do you want to ensure you make the most of your five days in this beautiful Spanish city, but are unsure where to start? If so, you've landed on the perfect article!
Given that I actually live in this great city, I know exactly what your 5-day itinerary in Valencia needs to include for you to have an amazing trip, by helping you navigate Valencia's blend of traditional charm and modern innovation.
And sure, you may be wondering how many days in Valencia is enough – or even if five days is too many? Well, in my opinion, having five days is the perfect amount, as I'll show you in this article.
I promise to take you on a virtual journey, from the stunning Turia Gardens to the vibrant local beach scene, the historic Old Town, and even some worthwhile day trips beyond the city limits. By the end, you'll have a roadmap of Valencia's must-see attractions and hidden gems that will turn your Valencia trip into an unforgettable experience.
So sit back, keep reading, and start envisioning your perfect Valencia getaway!
Itinerary for 5 days in Valencia
Day 1: A Valencia Feast for Both Your Stomach and Soul!
Welcome to Valencia, my beautiful home city, where history meets modernity, and paella is more than just a dish—it's a way of life! Brace yourself for a day of culture and cuisine on your first day in Valencia!
Morning: Central Market and La Lonja
Wake up early, grab a café con leche, and head straight to Mercado Central, one of Europe's oldest running food markets. This bustling hub of local life is a feast for your senses.
The aroma of fresh produce, the vibrant colors of ripe fruits, and the chatter of vendors—it's Valencia in its purest form! Don't forget to check out the beautiful architecture that houses the market. The stained-glass windows, the ornate dome, and detailed facades are a testament to the city's rich history and culture.
Next, saunter over to La Lonja de la Seda, located just across from the Central Market. This masterpiece of late Gothic architecture, a UNESCO World Heritage Site, was the city's former silk exchange.
Its intricate stone carvings and magnificent spiral columns are a sight to behold. Don't rush! Take your time to soak in the splendor of this ancient monument.
Lunch: Become a Paella Master!
Now, for my favorite part of the day—lunch! But wait, this isn't just a meal; it's an adventure. You're going to learn how to cook authentic Valencian paella in a hands-on cooking class (I recommend this one)! This isn't just a skill; it's a ticket to the heart of Valencian culture.
The local chefs, full of knowledge and bubbling with passion for their craft, will guide you through the local markets to pick the freshest ingredients for your paella. You'll hear tales of the district, stories only the locals know, and you'll feel more a part of Valencia than any tourist could!
The class is over three hours long, but trust me, it flies by. You'll not only learn how to cook the perfect paella, but you'll also whip up other rice dishes – and then get to devour your creations!
Paella making is a communal affair, so you'll also get to bond with your fellow cooks over copious amounts of wine, sangria, and mistela—a sweet, irresistible Valencian drink.
Once you've mastered the main course, get ready to satiate your sweet tooth with a traditional Valencian cake and seasonal fruit. And remember, the skills you learn here will last much longer than the usual fridge magnet or keychain souvenirs!
Afternoon: Explore Valencia's Heart and Soul
After a satisfying lunch, it's time to walk off that paella. Head to the magnificent Valencia Cathedral, home to the Holy Grail, the chalice used at the Last Supper. Whether you're a history buff, art enthusiast, or just a curious traveler, you'll find the Cathedral's blend of Romanesque, Gothic, and Baroque architecture truly awe-inspiring.
From there, flex those calves and climb the Miguelete Tower. As you ascend the 207 steps, take breaks to admire the intricate details of the structure. At the top, you'll be rewarded with a breathtaking panoramic view of Valencia.
Next, stroll to the charming Plaza de la Virgen, a square steeped in history and surrounded by iconic landmarks. Pose for a picture by the Turia Fountain, depicting Neptune on a chariot pulled by sea nymphs, and then visit the Basilica, a stunning tribute to Valencia's patron saint.
Finally, wind down at Café de las Horas with a glass of Agua de Valencia. Don't be fooled by its innocent name—this cocktail is a potent mix of cava, orange juice, vodka, and gin. It's the perfect end to your afternoon!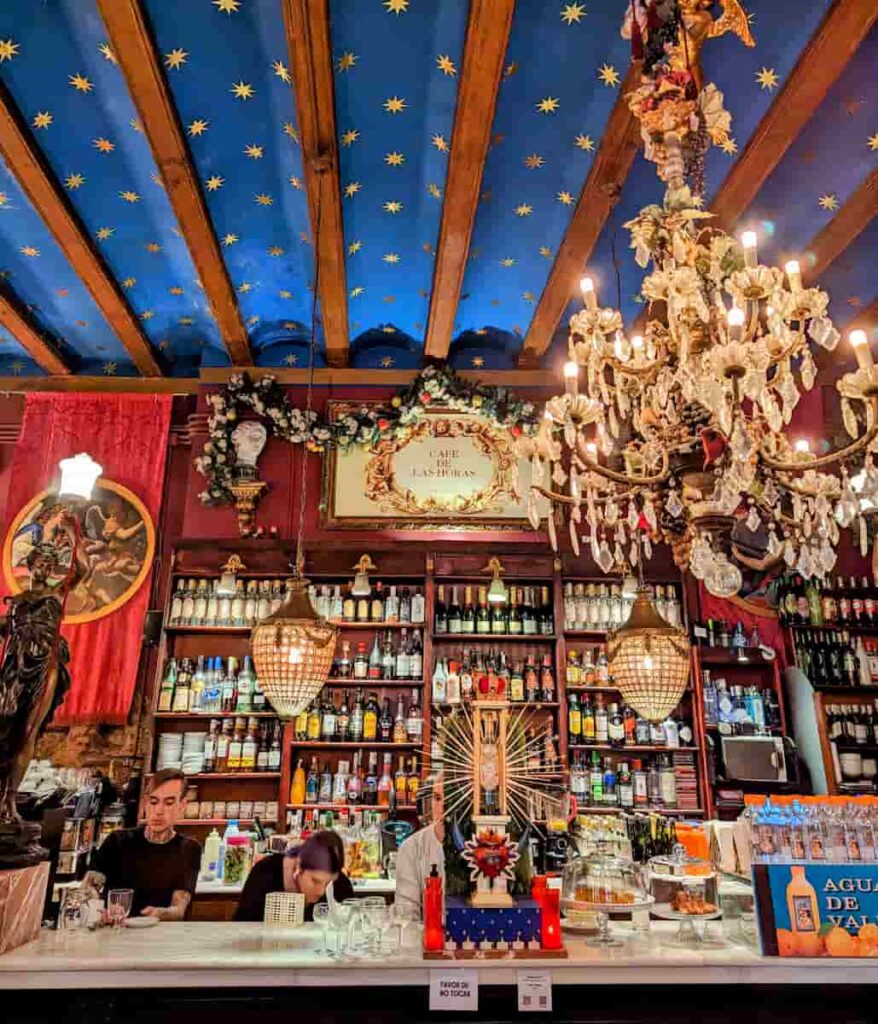 Dinner: A Taste of Valencia
By now, you may still be delightfully full from your paella feast at lunch. But if you're up for more culinary exploration, Valencia's tapas scene is not to be missed.
As you'll already be in the Old Town, let's keep it convenient and look for somewhere to eat there. Fortunately, whether you're looking for a full meal or just a light snack with your evening drink, you're going to be spoiled for choice.
Here are some of my top picks in the Old Town:
La Marrana: Known for its creative fusion tapas.
La Bodeguilla Del Gato: A traditional, cozy spot with a wide variety of tapas.
El Poblet: A Michelin-starred restaurant offering an upscale dining experience.
Taberna La Sénia: Beloved for its Valencian-style tapas.
Tasca Angel: Famous for its grilled sardines.
Remember, in Valencia, we dine late and we dine leisurely. Take your time, savor every bite, and soak up the atmosphere. Buen provecho!
Day 2: From Gardens to Gastronomy, Embrace the Valencian Vibe!
Day 2 in this charming city promises to be just as fun-filled as the first! Today, we're going to explore Valencia from its lush parks to its world-class science city, and finally, to its vibrant Old Town. So, grab your sunglasses and let's start day two!
Morning: Turia Gardens and the City of Arts and Sciences
Kick off your morning with a leisurely stroll – or a brisk bike ride – through the Turia Gardens. Once a riverbed, this 9km stretch of lush greenery is now the city's green lung and a popular spot for locals and visitors alike.
You could even rent a bike, if you'd like, to cover more ground in this sprawling park! It's a beautiful way to start your day and see Valencia's relaxed side.
Follow the park as it snakes through the city, and you'll end up at our next stop—the City of Arts and Sciences. This futuristic complex is a marvel of modern architecture, but it's more than just its striking looks.
It's a cultural and intellectual hub, housing an opera house, a museum, a cinema, a planetarium, and more.
My favorite spot here is L'Oceanogràfic—the largest aquarium in Europe. You'll be mesmerized by the underwater world, from playful dolphins to elegant jellyfish, and countless other marine species.
(And you can even get your tickets ahead of time here to skip the queue!)
If you're more into science and technology though, the Prince Felipe Science Museum is a great choice with its interactive exhibits.
Here's a pro tip: To truly experience the City of Arts and Sciences, I highly recommend this City of Arts & Sciences Tour with Rooftop Wine and Tapas. This 4-hour guided tour gives you an in-depth exploration of the complex, and finishes off with a spectacular gastronomic experience.
You'll ascend to a rooftop terrace where you'll be treated to a stunning 270º view of Valencia's city skyline and the complex itself.
As you take in the sights, indulge in a 10-course menu, each dish carefully crafted from local seasonal ingredients and paired with award-winning regional wines.
It's a feast for your eyes, your stomach, and your soul! The best part? The tour includes transport to your accommodation or another part of the city you'd like to explore next.
(Just remember, this unique experience tends to sell out quickly, so book early! You can check the latest price and availability here.)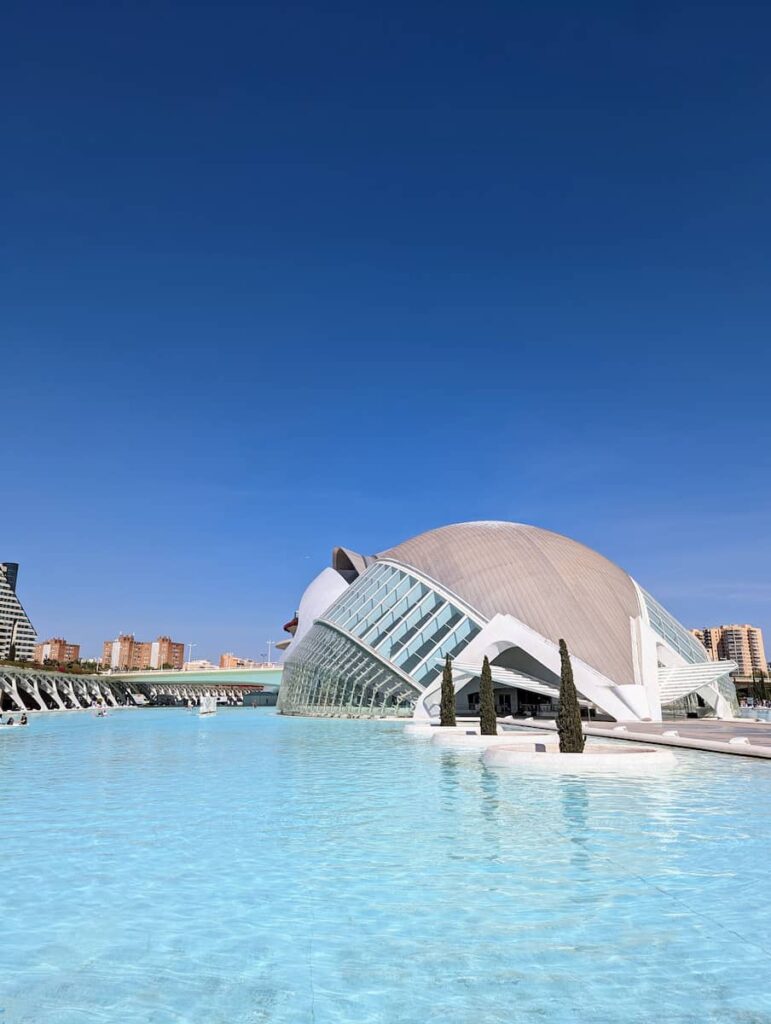 Afternoon: Uncover the Secrets of the Old Town
Post-lunch, let's step back in time and venture into Valencia's Old Town (I'd suggest walking back through the Turia Gardens as you really can't get enough of it).
Start at the Torres de Serranos, one of the city's old gateways. This impressive structure offers a glimpse into Valencia's past and a panoramic view of the city from the top.
From there, meander through the narrow, winding streets of the Old Town, where every corner is a piece of art. Keep your eyes peeled for vibrant street art that provides a stark yet harmonious contrast to the historic architecture.
And yes, we do love our feline friends here—don't miss the Casa de los Gatos, a quirky little house built into a wall just for cats!
Evening: Sunset Drinks and Dinner
As the day winds down, find yourself a cozy spot in Plaza Negrito. This lively square, with its tiny bars and vibrant atmosphere, is the perfect place to watch the sunset with a refreshing drink in hand.
When it comes to dinner, the options are endless in Valencia. Whether you fancy a traditional Spanish meal, creative fusion cuisine, or a smorgasbord of tapas, you'll find something to satisfy your taste buds.
Need recommendations? Just ask a local—we're always happy to share our favorite spots!
And with that, we wrap up Day 2. But don't worry, there's plenty more Valencia to explore in the coming days!
Day 3: Bask in the Sunshine, Indulge in Seaside Delights, and Explore Hidden Gems
It's Day 3 and today, we're going to embrace Valencia's sunny side and let the Mediterranean Sea work its magic on us. We'll also delve deeper into the city's history and enjoy more of its gastronomic wonders.
So, let's swap those walking shoes for flip-flops and hit the beach!
Morning: Fun Under the Sun at Las Arenas Beach
No visit to Valencia is complete without a day at the beach! Head to Las Arenas, our city's beloved sandy stretch. Whether you're a sun-worshiper, a water sports enthusiast, or simply in love with the sea, this is your playground.
Spread out your towel and soak up the sun, or jump into the waves for a refreshing swim. You could also join a game of beach volleyball, try paddleboarding, or just build the perfect sandcastle. The choice is yours!
Lunch: A Taste of the Sea
After a morning of fun, it's time to refuel. And what could be more fitting than a seaside lunch?
You've savored paella already, so why not try Fideuà today? It's a traditional Valencian dish similar to paella, but made with noodles instead of rice.
Here are some beachfront restaurants famous for their paella and Fideuà:
La Pepica: A favorite of Ernest Hemingway, this historic eatery has been serving delicious paella since 1898. It's a must-visit for any food lover.
El Trompo: This is a great spot for beach views and tasty Valencian cuisine. Their Fideuà is a crowd-pleaser!
Or, if you prefer a restaurant away from the beachfront but still renowned for its food, head to Casa Carmela. This charming restaurant has been serving traditional Valencian dishes since 1922, and their Fideuà is legendary. You will need to book though!
Afternoon: The Charm of El Cabanyal
Full and happy, it's time to explore El Cabanyal, a fascinating neighborhood known for its colorful tiled houses. Once a fisherman's quarter, El Cabanyal has retained its unique character and charm. Stroll through its vibrant streets, admiring the mosaic of tiles that adorn the houses.
When you need a break, stop for a snack or a refreshing drink at one of these cool spots:
La Fábrica de Hielo: This former ice factory is now a trendy cultural space. Grab a drink and maybe catch a live music performance or art exhibition.
Mercabanyal: This modern market is a foodie's paradise. From fresh produce to gourmet treats, you'll find plenty to nibble on.
Evening: History and Gastronomy in the Old Town
As the day winds down, we're heading back to the Old Town. But this time, we're not just wandering—we're going on a special tour! This Old Town Tour with Wine and Tapas in an 11th Century Monument is a perfect blend of history, culture, and cuisine.
Your friendly local guide will take you through the picturesque streets of Valencia's Old Town, revealing hidden treasures and sharing fascinating stories. Marvel at the unique blend of architectural styles, from Roman and Moorish to Baroque and Gothic.
The tour includes a visit to the stunning Church of San Nicolas, known as the "Valencian Sistine Chapel" because of its spectacular frescoes.
Then, you'll be granted exclusive access to a historic 11th-century monument, where a 10-course tapas meal awaits. Each dish is a showcase of Valencian cuisine and local produce, and the local wines paired with each plate are to die for.
By the end of the tour, you'll have a deeper understanding of Valencia's rich history and a satisfied palate. It's a perfect end to our third day in Valencia.
Now, get some rest, because we've got two more exciting days ahead!
Day 4: Discover Natural Beauty with a Side of Dance
Day 4 promises a change of scenery as we embark on a day trip to Albufera, a beautiful natural park just a short distance from Valencia. And, to round off our day, we'll immerse ourselves in the passion of flamenco over a delicious dinner. So, ready to set off?
Morning: Venture to Albufera
For our trip to Albufera, you have a couple of options: you could hop on a bus, or if you're feeling energetic, why not cycle there? The bike ride is a lovely way to take in the Spanish countryside and enjoy the fresh air.
Albufera Natural Park is a paradise for nature lovers. This huge freshwater lagoon, surrounded by rice fields and forests, is a haven for diverse wildlife, especially birds.
Spend your morning exploring the park – you could take a leisurely walk, rent a bike, or go birdwatching. And don't miss the opportunity to take a boat ride across the lagoon, it's a truly peaceful and picturesque experience!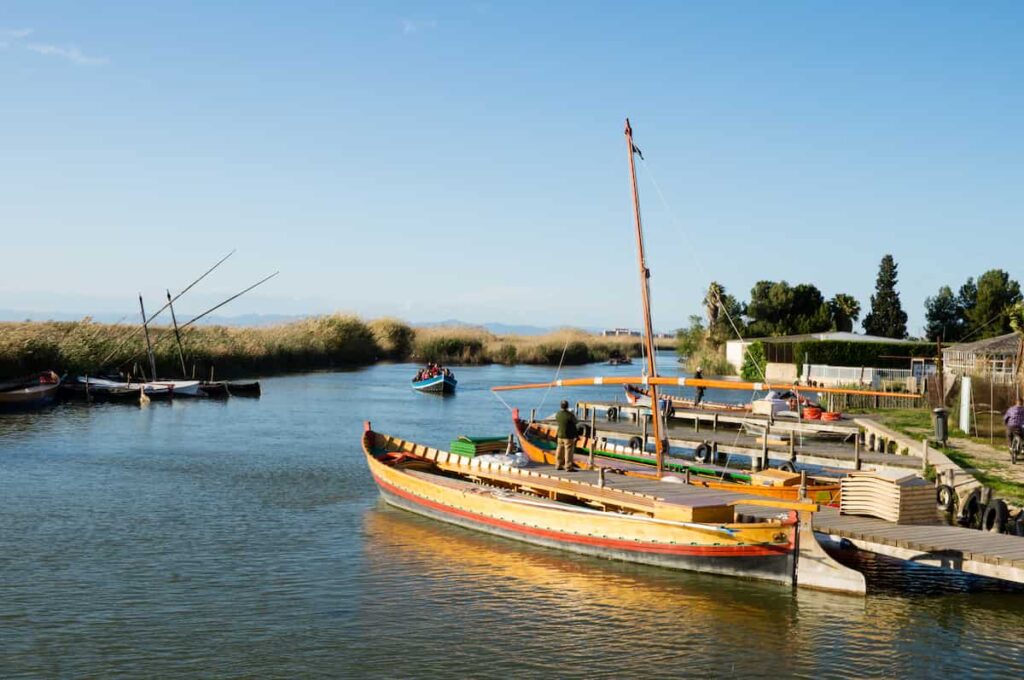 There are plenty of these on offer, so I'd suggest just walking around the area until you see someone offering these, as the prices on the spot are just the same as if you book ahead of time.
Lunch: Paella by the Lagoon
For lunch, it's time to treat yourself to some paella. Albufera is the birthplace of this iconic dish, and there's no better place to savor it than right here, overlooking the lagoon. Here are a few restaurants to consider:
El Palmar: This traditional restaurant is known for its authentic, flavorful paella.
La Matandeta: Set in the heart of the rice fields, this restaurant offers not only excellent food but also stunning views.
Restaurante L'Establiment: Overlooking the Albufera lagoon, this eatery serves up delicious paella in a picturesque setting.
Afternoon: More Albufera Wonders
After a satisfying lunch, you might fancy a siesta. If so, find a shady spot and enjoy the tranquility.
If you prefer to continue exploring, take a stroll through the quaint fishing village of El Palmar. This charming place is steeped in history and tradition and is the perfect spot to get a glimpse of local life.
For something more active, consider renting a kayak or canoe and paddling around the lagoon. It's a fantastic way to appreciate the beauty of Albufera and get up close to the wildlife that calls it home.
As the afternoon comes to a close, make your way back to Valencia. The journey will give you some time to relax and recharge before our evening plans.
Dinner: A Night of Gastronomy and Flamenco
Valencia has an abundance of fantastic restaurants, but tonight we're going for a special treat: a gourmet meal accompanied by an unforgettable flamenco show.
This gourmet meal and flamenco show at El Toro y la Luna is an incredible experience that combines mouthwatering Mediterranean cuisine with the passion and intensity of flamenco.
Your evening begins with a delicious dinner featuring the best of Spanish and Mediterranean flavors. While you dine, take in the rustic charm of the tablao, adorned with paintings and photographs of iconic personalities from the worlds of cinema, football, and the Golden Age.
Once you've savored your meal, it's time for the main event: a captivating flamenco show. Talented artists will mesmerize you with their passion and skill, as they perform this deeply emotional and powerful art form.
The performers will also engage the audience, inviting you to participate and sing along to international and folk songs. At the end of the night, you'll leave with a full heart and unforgettable memories of this incredible cultural experience.
And with that, you've reached four days in Valencia. Rest well tonight though, because tomorrow, we have one more day of fun and adventure in this great city!
Day 5: Flex Day – Museums, Vineyards, and More
You've made it to the final day of your Valencia adventure! Today, we've got a smorgasbord of options for you.
Maybe you missed something in the last few days, or perhaps you fell in love with a spot and want to revisit? Whatever the case, today is all about flexibility and wrapping up your trip in the best possible way.
Morning: Museum Mania
If you're an art and culture enthusiast, Valencia's plethora of museums are sure to delight. Here are my top picks for one that you could do this morning:
El Carmen Cultural Center: This isn't just a museum; it's a breathtaking piece of architecture. The elegant blend of Gothic and contemporary design is a testament to Valencia's rich history and vibrant future.
IVAM – Institute Valencian of Modern Art: This is a must-visit for fans of modern and contemporary art. From sculptures to paintings, each piece tells a unique story of the evolution of art in Valencia.
Museum of Fine Arts (Museo de Bellas Artes): Feast your eyes on a vast collection of Spanish art from the 14th to the 21st century. From Valencian gothic altarpieces to works by famed artists like Goya and Velázquez, this museum is a treasure trove for art lovers.
Afternoon: Wine or Wander?
You've got two options here depending on your interests (and energy levels), so take a look below to see which one piques your interest more.
Option 1: Wine tasting in Valencia's wine region
For wine aficionados, this Requena Wine Tour with Tastings is a real treat as you journey out of Valencia and into the heart of the Utiel-Requena wine region.
This private tour takes you to the town of Requena, where you'll visit two traditional vineyards and taste local wine varieties like Bobal and Merseguera.
Your tour begins with a scenic drive through the countryside, where you'll learn about Spain's wine production history. In Requena, you'll explore the town's ancient city walls, fortress, and charming streets.
You'll also visit a 10th-century medieval cave and learn about its centuries-old wine production methods.
At each winery, you'll enjoy tastings of their finest wines, paired with local delicacies like cold meats and cheese. By the time you return to Valencia, you'll be a bonafide expert in Valencian wines!
Option 2: Day trip to Xàtiva
If you'd prefer a change of scenery, consider a day trip to Xàtiva. This picturesque town is rich with history, boasting an impressive castle, ancient city walls, and beautiful plazas.
Getting there is straightforward, with regular trains running from Valencia's Estación del Norte which usually take less than an hour. And once you arrive, you'll soon see that Xàtiva is brimming with historical treasures that are easy to explore on foot.
This ancient town was once a Roman settlement and later a key location during the Moorish reign. It was also the birthplace of two popes in the infamous Borgia family, adding a layer of intrigue to its history.
The crown jewel of Xàtiva is undoubtedly the grand Castle of Xàtiva, which is perched high above the town. It's actually two castles in one – the Castle of Menor (Smaller Castle) and the Castle of Mayor (Bigger Castle), each providing breathtaking panoramic views of the town and surrounding countryside.
Stroll through the narrow, winding streets of Xàtiva's Old Town and marvel at the beautifully preserved medieval and Gothic buildings. Visit the Collegiate Basilica of Santa Maria, a stunning example of Valencian Gothic architecture, and don't miss the Almodí Museum, housed in a 16th-century grain storehouse, showcasing local art and history.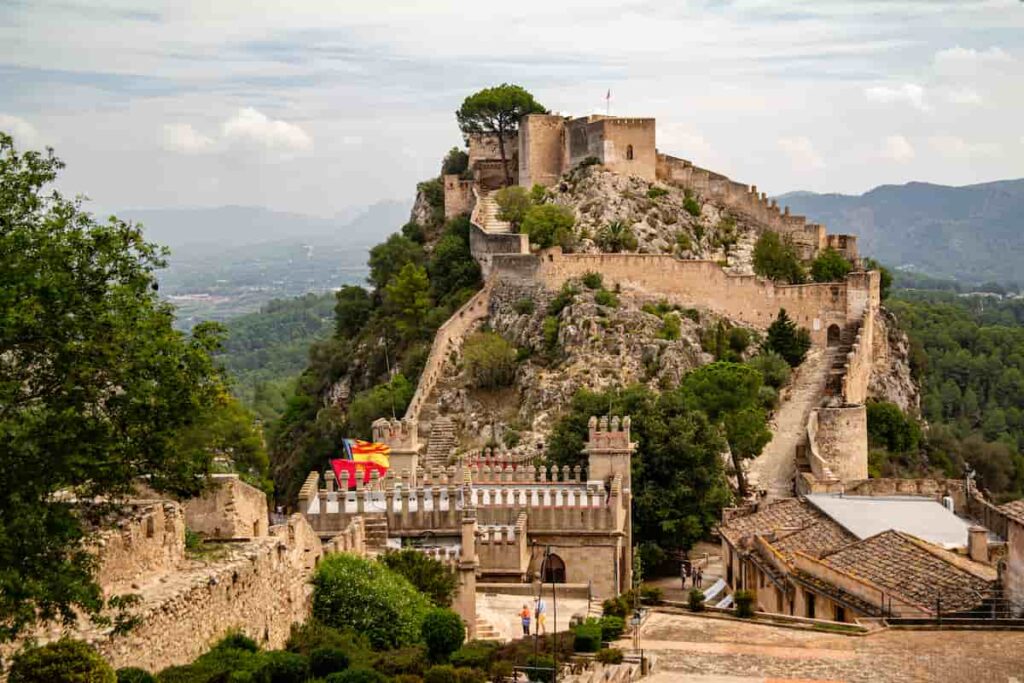 Evening: A Toast to Valencia
After an eventful day, it's time to wind down and reflect on your amazing Valencia journey. Head back into the city and find a cozy spot in one of the charming plazas in the Old Town or Ruzafa district.
Raise a glass of local wine or vermouth and toast to your unforgettable trip. As you soak up the ambiance of Valencia one last time, you'll realize that while your visit may be ending, your love for this enchanting city is only just beginning.
Is 5 Days Enough in Valencia?
Yes, 5 days in Valencia is the perfect amount of time to soak up the city's essential sights and experiences, from the lush Turia Gardens to the tantalizing paella cooking classes, all the way to the iconic City of Arts and Sciences. Plus, there's even some wiggle room for a few off-the-beaten-path adventures.
So, while you could always use more time in this sun-kissed city, five days is certainly enough to give you a delightful taste of Valencia's charm. Of course, if you want more, there's always this great 7 day itinerary in Valencia to let you see even more of what's on offer here!
In fact, Valencia, with its captivating mix of history, culture, cuisine, and sunshine, can keep you enthralled for weeks on end. With just five days, you might feel like a child in a candy store, wanting to grab everything at once but not quite able to…
But don't worry, that's where the beauty of a well-planned itinerary steps in!
Is 5 Days Too Long in Valencia?
No, 5 days definitely isn't too long in Valencia. With five days, you can afford to slow down a bit, really savoring each experience instead of rushing from one sight to the next. It even gives you the chance to see some of the sights outside the city itself.
After all, even if you've checked off all the major attractions, there's always something new to discover around the corner. You might stumble upon a vibrant street art piece, find a quaint café serving up the best horchata you've ever tasted, or uncover a charming boutique with unique local crafts.
In the end, five days in Valencia isn't just about seeing—it's about experiencing, and trust me, Valencia is an experience you'll want to savor.