2023 Barcelona Metro Map (with Tourist Attractions) + Zones
This article may contain affiliate links. Please read our
Disclosure Policy
for more information.
So, you're gearing up for a Barcelona adventure and want to navigate like a pro, huh? I've been there!
And while the Barcelona metro map might seem like a maze of colorful lines at first glance, with a little inside scoop, it becomes your key to uncovering the city's every corner.
Living in Spain and spending a ton of time in Barcelona has given me some first-hand insight into mastering the metro. Stick with me, and by the end of this article, you'll not only decode the Barcelona metro map, get to tourist attractions and manage all those zones – but you'll also feel like a local every time you hop on a train!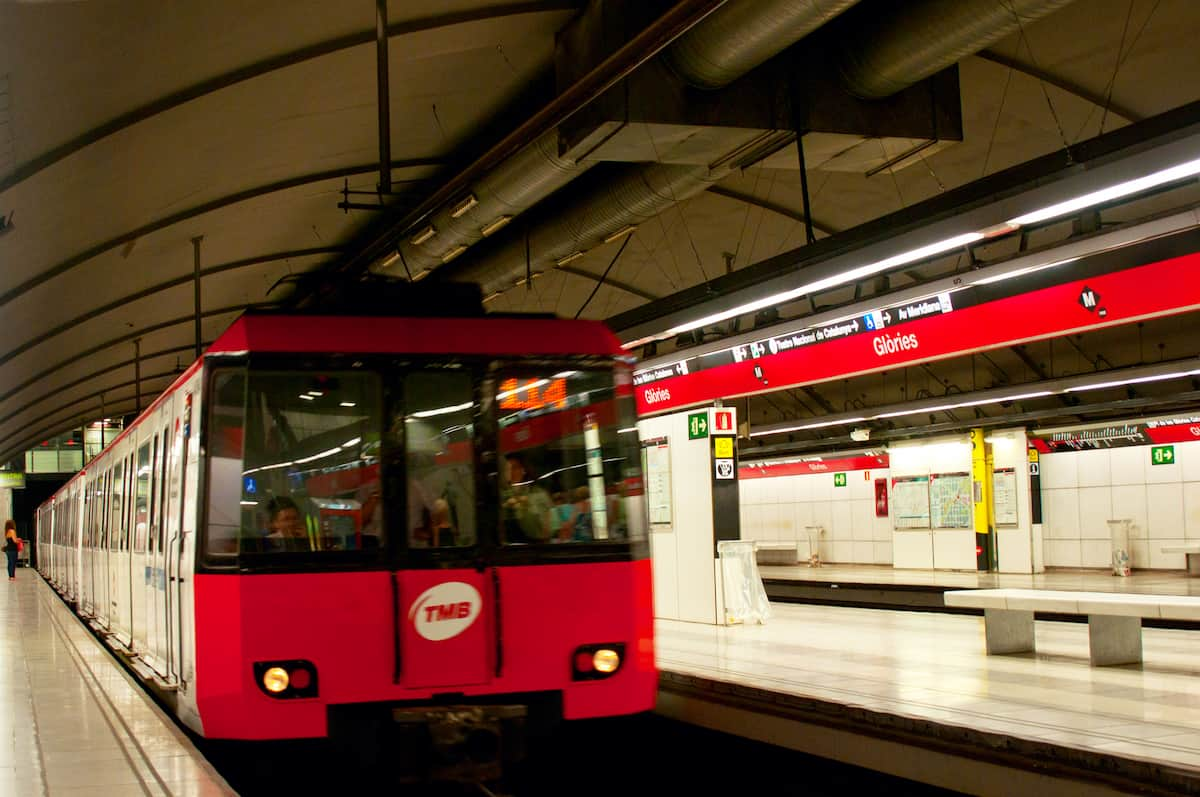 Barcelona metro map
The Barcelona metro map looks a bit convoluted at first, but once you get the hang of it, it's actually quite easy to read and provides a clear overview of the metro system. You can find the map at any metro station – or you can check it out below!
Click here to see a full size version of the Barcelona metro map
Barcelona metro map with tourist attractions
The map above is pretty comprehensive – even too much, if you're looking at this Barcelona metro map to find the main tourist attractions here.
To help you out, here are some of the main sights with their closest metro stations and the metro lines you'll need to take to get to each one:
Sagrada Familia: Sagrada Familia (L2, L5)
Park Guell: Lesseps or Vallcarca (L3) (followed by a walk uphill or take a bus)
Casa Batlló: Passeig de Gràcia (L2, L3, L4)
Casa Milà (La Pedrera): Diagonal (L3, L5) or Passeig de Gràcia (L2, L3, L4)
La Rambla: Liceu (L3) or Drassanes (L3)
Mercat de la Boqueria: Liceu (L3)
Gothic Quarter: Jaume I (L4) or Liceu (L3)
Barcelona Cathedral: Jaume I (L4)
Camp Nou Stadium: Collblanc (L5) or Badal (L5)
Picasso Museum: Jaume I (L4)
Barceloneta Beach: Barceloneta (L4)
Palau de la Música Catalana: Urquinaona (L1, L4) or Catalunya (L1, L3)
Tibidabo Amusement Park: Take L7 to Av. Tibidabo, then the historic Blue Tram "Tramvia Blau", and finally the Tibidabo funicular to the top. (Note: This is a longer journey and involves multiple modes of transport.)
Poble Espanyol: Espanya (L1, L3)
Barcelona metro timetable
If you're looking to zoom around Barcelona, you're gonna love the metro's timetable. It's super convenient with the following opening hours:
Monday to Thursday: 5:00 am – 11:30 pm
Friday: 5:00 am – 2:00 am
Saturday: 24 hours
Sunday and public holidays: 5:00 am – 12:00 am
Usually, during those rush hours, you won't be waiting long – the metro's there every 2-5 minutes. And during the less busy times? Every 5-10 minutes.
Just a tiny note though – schedules can shift during holidays or special events. So, a quick online check before heading out won't hurt.
Barcelona metro zones
Now, let's talk zones. The fare system for buying public transport tickets in Barcelona? Super practical! You get one ticket, and with it, you can hop onto the metro, buses, trams, and even some local rail networks.
Here's a picture of the Barcelona metro zones to help you see where to go:
Click here to see a full size version of the Barcelona metro zones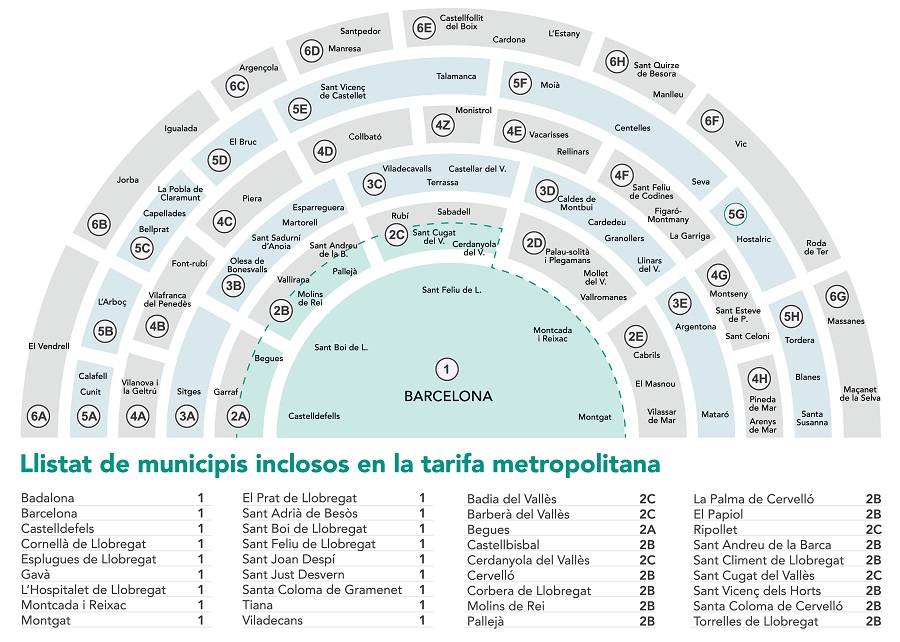 And now here's the easy part: with this system, you can change up to four different transports (yep, most passes also work as bus tickets in Barcelona too!), and do it three times, within the time and zone limits of your ticket. So, no stress if your journey involves a couple of swaps.
Alright, a bit of math (don't worry, it's simple). There are 6 fare bands divided into zones, covering 296 municipalities. When planning your journey, your ticket should cover the number of zones you're passing through, maxing out at 6.
For instance, if you're heading from Barcelona (that's zone 1) to Terrassa (hello, zone 3C), grab a ticket that's valid for three zones. And if you're ever in doubt about the zones, you can find a great little zone counter tool right here.
How to Use the Barcelona Metro
Ready to conquer the Barcelona metro? Let's get you on track:
Getting Your Ticket: There are automatic machines at every station, and they're user-friendly (with multiple language options). Grab a single journey ticket or save some euros with a multi-trip card if you're gonna be zipping around the city a lot.
Ticket Barriers: Alright, got your ticket? Now, approach the barrier, find the slot or tap point, and voilà – you're in! When you're exiting, some stations require you to tap or show your ticket again, so keep it handy till you're out. And, don't worry, if you've got the right ticket, it's smooth sailing.
Navigating the Lines: Stations have color-coded lines and clear direction signs. Plus, they're marked with the final destination to help you know which way to go. Pro tip? Check the Barcelona metro map above before your trip; it gives you a clear idea of where you're headed.
Stay Alert: While the metro is generally safe, those stories about Barcelona's pickpocket problem aren't completely unfounded, especially at metro stops near major tourist attractions. Keep your belongings close and in eye sight, especially in crowded areas, and maybe avoid flashing that fancy new camera or waving your phone around too much. A little caution goes a long way!
Onboard Etiquette: Once you're on the train, you'll find it's pretty chill. If you're traveling during rush hours, be ready for a little squeeze – but hey, it's all part of the adventure!
Barcelona Metro to the Airport
Wondering how to get from the city to El Prat without breaking the bank? The metro's got your back:
Line L9 Sud: This is your golden ticket to the airport. It connects both Terminal 1 and Terminal 2 to the city. No need for fancy airport transfers when you've got a direct metro line!
Frequency & Time: Trains run every 7 minutes, so you won't be left hanging. The whole ride takes about 32 minutes from Zona Universitària station to the airport. So if you're running a little late… just maybe not too late, the metro might just be your saving grace.
Cost & Tickets: Airport trips have a slightly higher fare than regular rides, but hey, it's still way cheaper than a cab. Make sure to get the airport ticket from the machine, and you're good to go.
FAQs
Is the Barcelona metro easy?
Absolutely! The Barcelona metro is pretty straightforward once you get the hang of it. Clear signs, color-coded lines, and frequent trains make it one of the easiest ways to move around the city. Getting a multi-journey card also makes it very cost effective.
Having wandered through many metro systems across the world, I'd rank Barcelona's right up there in terms of user-friendliness. While any new metro map can seem a tad overwhelming at first, a quick study of the Barcelona metro map and you'll soon be navigating it like second nature.
And if ever in doubt, the locals are usually more than happy to help guide you on your way (especially in more touristy areas where you're more likely to find someone who speaks English). Just remember, it's all part of the adventure!
What is the metro like in Barcelona?
The metro in Barcelona is efficient, pretty clean, and often bustling with energy. It's the heartbeat of the city, connecting all its vibrant neighborhoods and attractions. Just be aware of your belongings during busy times as pickpockets can be an issue.
Inside the metro, you'll find the carriages are modern and air-conditioned – a true blessing during those hot Spanish summers. The platforms are usually equipped with electronic signs indicating the waiting time for the next train, which, trust me, is rarely a long wait.
As with any major city's metro system, peak hours can be busy, so be ready for a bit of a crowd during the morning and late afternoon rushes. But all in all, the ambiance is a mix of tourists exploring and locals going about their day, giving you a real feel for the city's pulse.
Is Barcelona metro 24 hours?
No, the Barcelona metro doesn't run 24 hours a day every day of the week. It does run 24 hours on Saturdays only. On other days, it usually starts around 5:00 am and runs until midnight or a bit later, depending on the day.
It's awesome for those late Saturday night (or should I say Sunday morning) adventures, letting you soak in Barcelona's nightlife without fretting over transportation. On other nights, if you find yourself out after the metro closes, there are night buses available.
These "NitBus" routes cover most of the city and are a reliable way to get back to your accommodation. So, while the metro might sleep on some nights, Barcelona sure doesn't!