10 Safest Areas to Stay in Barcelona (2023)
This article may contain affiliate links. Please read our
Disclosure Policy
for more information.
So, you're planning a trip to Barcelona and safety's top on your list, right? Look no further!
Having lived in Spain and spent countless hours roaming the streets of Barcelona (including many on my own – which, as a woman, means safety is also a big thing for me), I've gathered some personal insights on the best and safest areas to stay in Barcelona.
By the end of this read, you'll have a clear idea of the best neighborhoods in Barcelona to stay that are safe and secure – but, importantly, that don't compromise on the charm or the local vibe.
Safest areas to stay in Barcelona
1. Eixample
Eixample is the part of Barcelona that beautifully blends the old with the new. Designed in the 19th century, it's an area of broad, orderly streets which is quite a change from some other parts of the city, like the tighter lanes of the Ciutat Vella (Old Town).
One of the big draws here which makes it one of the best choice for where to stay in Barcelona? The Modernist architecture. And of course, the Sagrada Familia, Gaudí's iconic cathedral, stands tall in Eixample, watching over the city.
For those of you who love a bit of retail therapy, Eixample is pretty much your shopping wonderland with stores scattered across Passeig de Gràcia and Rambla de Catalunya.
The food scene in Sant Antoni, part of Eixample, can't be missed either. Diverse tapas bars, fusion restaurants, and some pretty great coffee spots dot the scene.
Now, if you're thinking about nightlife, Eixample has a bit of everything. There's a rich craft beer scene and the "Gaixample" zone, which adds a lively pulse to the district's nightlife.
Safety-wise, Eixample is an excellent pick. Its spacious streets, well-lit avenues, and continuous activity make it one of Barcelona's safer neighborhoods.
Whether you're wandering around during the day, soaking in the architecture, or heading out for a late dinner, you'll definitely feel comfortable here. It's definitely a large part of the reason it's my top pick for where people should stay for their first time in Barcelona.
2. Gràcia
There's something uniquely inviting about Gràcia. It feels like you've stepped into a village, yet you're still in the heart of Barcelona.
The district exudes a calm, local vibe which is somehow both endearing and relaxing at the same time.
Historically, Gràcia was its own village, which perhaps explains its distinct aura. Its key highlight is Park Güell, a Gaudí masterpiece that paints a colorful picture of art and nature combined.
One of the best parts about Gràcia is the sense of community. The range of parks, plazas, and streets here have that neighborly touch, where everyone seems to know everyone.
This fosters a safe environment that's really very noticeable as you walk around, making it a popular choice for families and solo travelers.
For shopping, think less high-street and more indie. Local boutiques, artisanal stores, and unique finds make shopping here a delightful experience.
And the dining? Gràcia offers a smorgasbord of local eateries, bars, and cafes where authenticity is the main ingredient.
As mentioned, safety is a strong suit for Gràcia. The neighborhood's tight-knit community and family-friendly ambiance add an extra layer of comfort for visitors.
It's one of those places where evenings feel as secure as midday, making it an ideal choice for those who prioritize safety.
3. El Born
El Born, situated right in the heart of Barcelona, is a neighborhood deeply steeped in history. As a part of the Ciutat Vella, aka Old City, its meandering streets are akin to a living museum, giving explorers glimpses of Barcelona's storied past.
And speaking of the past, you wouldn't want to miss the Picasso Museum around here, with its expansive collection. El Born Centre de Cultura i Memòria offers an intriguing peek into 18th-century Barcelona.
On the other hand, for those leaning towards contemporary art, the Moco Museum of Contemporary Art showcases the city's modern artistic flair.
If food is the way to your heart, El Born won't disappoint. Tapas bars, traditional restaurants around Plaça de Santa Maria and Passeig del Born, or the Santa Caterina Market offer the best of Catalan cuisine.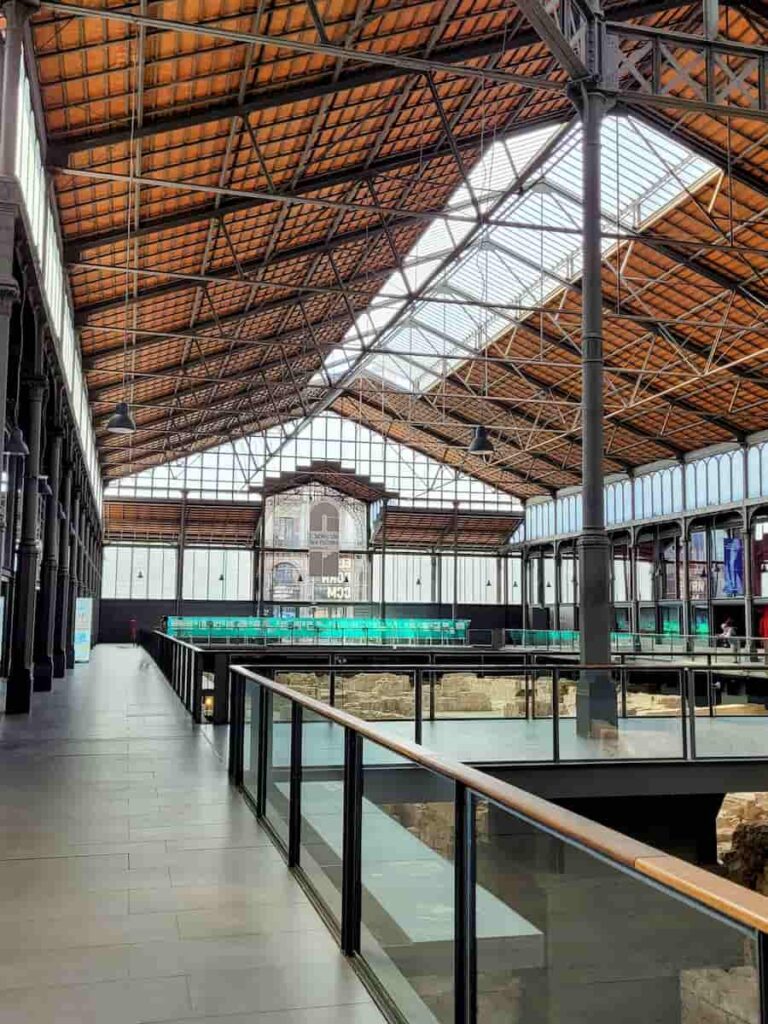 And to shake off those extra calories, take a leisurely stroll in Parc de la Ciutadella. A zoo for the kiddos, tranquil lakes, and even a majestic Catalan Parliament Building await.
But El Born's claim to fame isn't just daytime attractions, as the neighborhood is a hub of activity when the sun goes down. The nightlife, with its clubs and bars, adds vibrancy to the locale.
If you fancy some shopping, local designer wares line streets like Flassaders and Del Rec. For accommodations, choices are plentiful, from the opulent Grand Hotel Central to the budget-friendly Pension Ciudadela.
Now, El Born's central location is a double-edged sword. While it makes getting around a breeze and generally feels safe with its bustling streets, it can be a tad pricier, especially at the trendier bars and eateries.
It's also a good idea to keep an eye out for pickpockets in some of the busier areas, especially at night. El Born is very safe in general, but there can be some dodgy people trying to take advantage of the crowds, so just remain aware of your surroundings and you should be fine.
4. Barri Gòtic (Gothic Quarter)
Not too far away from El Born is the Barri Gòtic or the Gothic Quarter. Central, walkable, and exuding an old-world charm, this area is the historical and geographical heart of Barcelona.
With most of the city's attractions just a short walk away, it's perfect for families and solo travelers alike. The magnificent Gothic Cathedral stands tall, a symbol of the city's spiritual and architectural brilliance.
Wandering through this quarter is like taking a step back in time, with ancient buildings juxtaposed against modern ones, providing a unique ambiance.
The Barri Gòtic also offers a plethora of attractions, from the Museu d'Historia de Barcelona with its Roman remains to art at Museu Frederic Marès.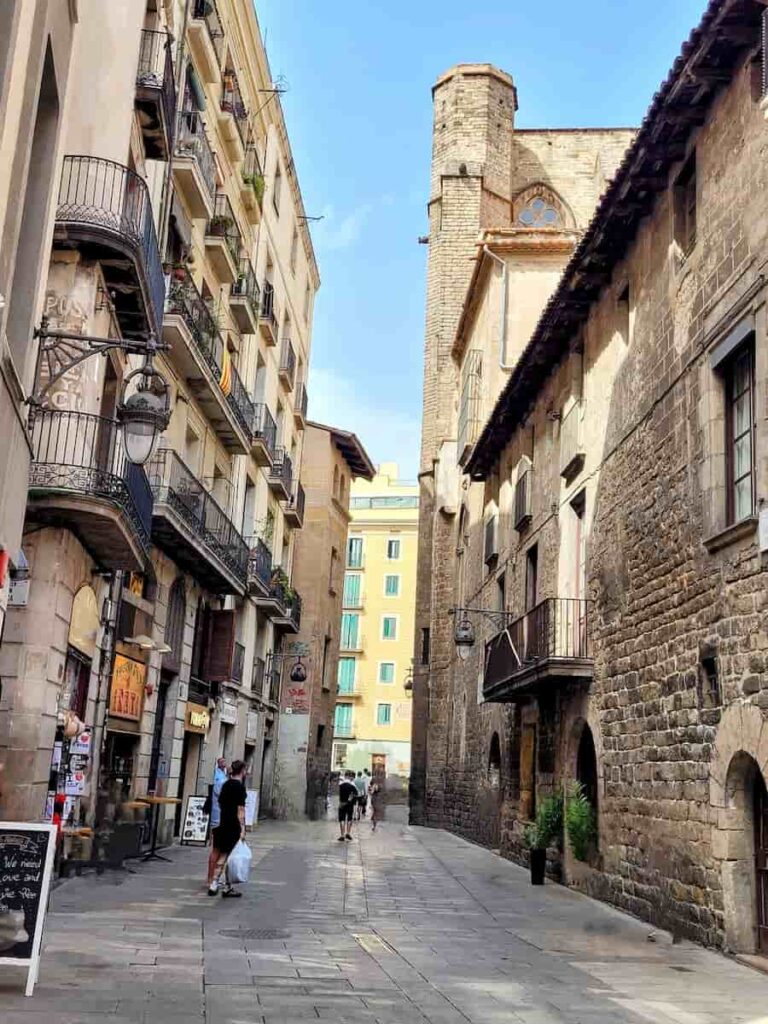 Accommodations are varied, ranging from boutique hotels to more wallet-friendly choices. One unique aspect of staying here is the opportunity to immerse oneself in the city's history.
Now, the Gothic Quarter is generally safe and I definitely recommend it as somewhere safe to stay in Barcelona, especially when you want to be near the sights. At the same time, noting that it was built centuries ago, some of those cute little winding alleys can get a bit dark and weird at night.
You shouldn't necessarily expect any problems, but I'd suggest that you stick to well lit areas where other people are around to be on the safe side.
5. Poble-Sec
Poble-Sec is often overshadowed by Barcelona's more famous areas but is genuinely deserving of the spotlight. Located right at the base of Montjuïc hill, Poble-Sec has transformed over the years.
Gone are the days when it was home to the city's less fortunate, and today it stands proudly with a unique character, reminding me of Barcelona's resilience.
This means that, safety-wise, Poble-Sec has improved considerably over the years. Its blend of locals and tourists creates a vibrant community where people look out for each other. The well-lit streets and active local community make it a safe choice for travelers.
Now, if you're a food lover like me, this is the place to be. Poble-Sec serves up an impressive array of eateries. From traditional Catalan dishes to global cuisines, you won't be short of options.
And if you're keen on some budget-friendly snacking, stroll down Carrer de Blai for their famed pintxos and chilled beer – I mean, who can resist anything priced at €1.00?
But food isn't the only thing that'll keep you occupied here. Poble-Sec's nightlife is, in one word, electric. Locals and tourists mingle at numerous music venues and outdoor cafes, with Sala Apolo being a favorite of many – trust me, it's a vibe!
And while it might not boast the big-ticket touristy spots, its location makes it super easy to dive into Barcelona's culture and history. The nearby Montjuïc hill, for instance, has an ancient military fortress that's worth your time.
Daytime in Poble-Sec is chill, offering a much-needed break from the city's rush. Plus, it's crazy well-connected to the rest of Barcelona, so you can zip around as you please.
Attending a conference at Fira de Montjuïc? Well, you've found your perfect base! Remember, though, if you're looking for luxury accommodations, this area leans more towards the practical side.
6. Montjuïc
On to Montjuïc, which translates to "Jewish Mountain." This picturesque hill is more than just a pretty face; it's steeped in history and is an emblem of Barcelona's identity.
That fortress on top? It dates back to the 17th century and offers views of the city that are hard to beat.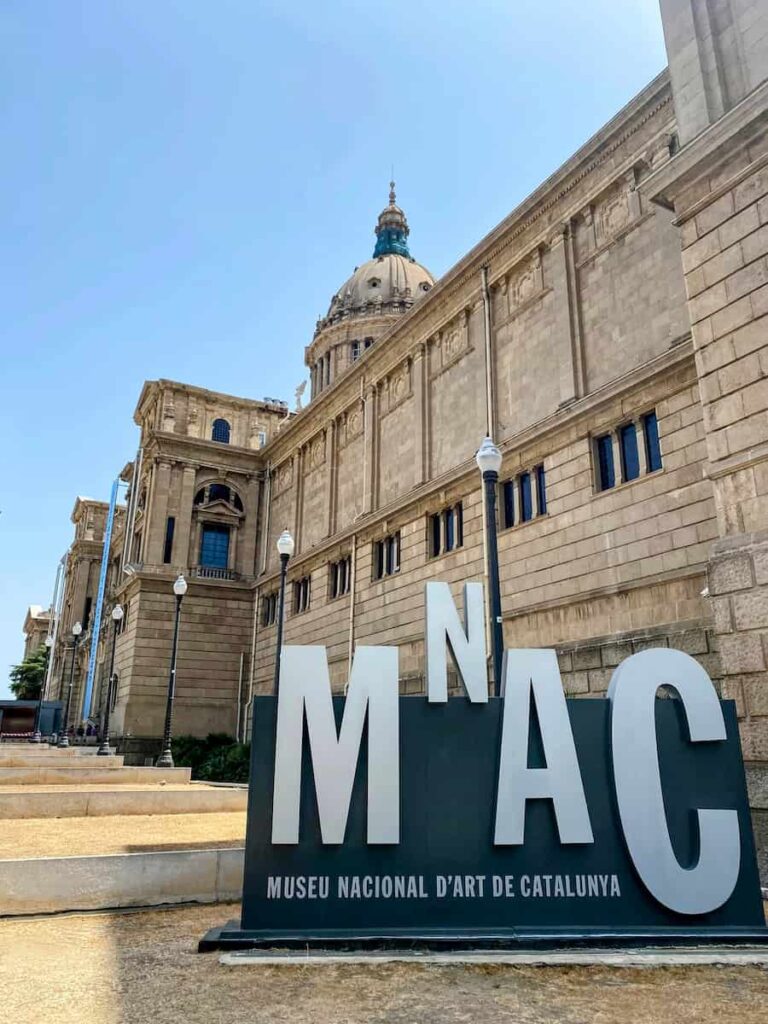 For art enthusiasts, Montjuïc is home to two prominent art museums: the Fundació Joan Miró and the Museu Nacional d'Art de Catalunya (MNAC). And if architecture's your thing, the Palau Nacional housing the MNAC is a sight to behold.
Montjuïc's parks and botanical gardens also provide a calm respite, as the hill is dotted with lush parks and gardens – perfect for a peaceful stroll. Plus, the botanical gardens here are a beautiful ode to plant diversity.
Sports buffs may be interested to know that Montjuïc was at the heart of the 1992 Olympics. The Olympic stadium and Santiago Calatrava's iconic communications tower are solid reminders of this and are worth taking a look at.
Getting to Montjuïc is simple. There's a funicular and a cable car from the Paral·lel metro station, making your ascent effortless. And do make a stop at the Magic Fountain; those summer sound-and-light shows are pure magic.
While Montjuïc is tranquility personified, Poble Sec, its neighboring district, brings the sizzle with its dining and nightlife. And for a dash of the sea, a cable car can whisk you over to Barceloneta, known for its vibrant beach and scrumptious seafood tapas.
Now, for the practical bits. Montjuïc's central location means you're well-placed if you need to jet off from Barcelona El Prat Airport or are attending an event at La Fira.
However, if you love exploring cities solely on foot, Montjuïc might require a tad more planning given its elevation and the metro's occasional crowds.
7. Poblenou
Poblenou offers a unique blend of the past and the future. As you walk by the Mediterranean and feel that salty sea breeze, you're surrounded by a harmonious blend of age-old traditions and a forward-looking spirit of innovation.
The community here has a strong local presence, and its streets are often serene and perfect for leisurely strolls, which adds an extra layer of security for travelers.
Moreover, Poblenou has transformed its streets into a hub of artistic expression, with former industrial locales now serving as tech hubs, tapas bars, and art spaces. The neighborhood's vibrancy extends to Plaça de les Glòries Catalan, a central square housing the iconic Torre Agbar skyscraper, and Bogatell Beach, a clean, well-maintained stretch that's a favorite among locals and visitors.
And while Poblenou may not be within walking distance of Barcelona's main attractions, its solid public transportation links ensure you're always connected safely.
8. Barceloneta
Once a humble fishing village, today, Barceloneta stands as a testament to Barcelona's ability to preserve its history while embracing the new. Its narrow alleys, filled with pastel homes, offer a genuine neighborhood feel.
In essence, it's like a tight-knit community where everyone looks out for one another, adding to the sense of safety.
The beach, stretching for miles, often bustles with families, joggers, and rollerbladers. Its popularity among locals ensures there's always someone around, which can be reassuring for visitors. Additionally, Barceloneta's dining scene, renowned for its seafood offerings, is a reflection of the area's deep-rooted fishing heritage.
And although the neighborhood can get quite crowded in summer, the strong community vibe ensures it remains one of the safer spots in the city.
9. Sarrià-Sant Gervasi
If you're eyeing Barcelona and value a blend of calm and upscale settings, Sarrià-Sant Gervasi might be right up your alley.
Located north of the city's core, this district offers a peaceful atmosphere. And for those prioritizing safety, its upscale surroundings typically ensure a more secure environment.
For food enthusiasts, Bar Tomas in this district is known for its patatas bravas. And once you've had your fill, you can burn off those calories through the neighborhood's easy access to Mount Tibidabo.
There's an option to hike or you can even choose more leisurely ways to reach the top. Either way, the panoramic views are pretty impressive, especially with the Expiatory Church of the Sacred Heart of Jesus nearby.
Looking for something sweet? Oriol Balaguer in Plaza Sant Gregori Taumaturg has a range of baked goods. And for a relaxed evening, Hemingway Gin & Cocktail bar is a solid choice.
Within Sarrià-Sant Gervasi, there are diverse micro-neighborhoods. Sarrià has an exclusive feel, whereas Horta resonates with calmness. For event seekers, Sant Andreu's district festival in November is definitely a cultural experience to try to see at least once.
Overall, Sarrià-Sant Gervasi offers a more localized Barcelona experience, away from the usual tourist paths, providing a sense of safety and genuine connection to the city.
10. Sant Antoni
Shifting gears to Sant Antoni: situated among the neighborhoods of Eixample, Raval, and Poble-Sec, Sant Antoni offers a harmonious blend of tradition and contemporary vibes.
At its heart is the Sant Antoni Market, a fusion of food stalls and bookstores. Since its 2018 revival, it's become a central point for both locals and visitors.
On the culinary front, Sant Antoni doesn't disappoint. Between modern donut shops and craft beer bars, there's variety to suit different palates.
Renowned chefs Ferran and Albert Adrià also mark their presence in this district. For a range of dining options, Carrer del Parlament is a reliable choice.
While the district is evolving, it remains rooted in its history, with establishments like La Bodega d'en Rafel offering a more traditional experience.
It's worth noting that Sant Antoni has a strong residential character. This not only offers a genuine glimpse of Barcelona living but also contributes to the neighborhood's safety, as it's a tight-knit community.
The relative absence of major tourist attractions can also mean fewer crowds and a more laid-back atmosphere, which many safety-conscious travelers might appreciate.