Barcelona in December (2023): Ultimate Guide To What To Do
This article may contain affiliate links. Please read our
Disclosure Policy
for more information.
December in Barcelona is a magical time, when the city comes alive with festive cheer and holiday spirit. From the sparkling lights to the cozy markets, Barcelona is a winter wonderland that shouldn't be missed.
In fact, while the world's hustling and bustling with holiday prep, Barcelona in December is like a glimmering bauble waiting to be discovered. The lights, the festive mood, the almost-crunchy-but-not-quite-cold air – it's a far cry from the sun-soaked images you might be used to.
But is December really a good time to visit Barcelona? And what magic can you expect as the city decks its halls?
Now, I've been fortunate enough to live in Spain for some time now and have had the chance to explore Barcelona more than a casual wanderer. December in this Catalonian corner has its own set of surprises, each more delightful than the last.
Join me as I unwrap the best of Barcelona in the final month of the year, offering insider tips and can't-miss spots that'll make your visit feel like the best holiday gift.
Planning a trip to Barcelona?
Barcelona is incredibly popular for tourists and so it's essential to book accommodation well in advance to avoid missing out here. Here are my top picks on the best places to stay for the ideal mix of comfort, convenience and (reasonable!) costs:
⭐⭐⭐⭐⭐ Best luxury accommodation: Ohla Barcelona – amazing rooftop pool, incredible views, and the perfect location to explore the city
⭐⭐⭐⭐ Best mid-range accommodation: Seventy Barcelona – the décor of this boutique hotel is so modern and stylish, the rooftop pool is ideal, plus you'll be near the main sights the moment you step outside
⭐⭐ Best budget accommodation: Àmfores Boutique Guest House – the rooms are comfortable, the location is superb and the terrace is a great spot to end your day
Is December a Good Time to Visit Barcelona?
Yes, December is a good time to visit Barcelona. While the weather may be cooler than in the summer months, one of the biggest advantages of visiting Barcelona in December is the lack of crowds. This lets you enjoy a more relaxed atmosphere, with shorter lines and fewer tourists.
The summer months here can be incredibly busy, with long lines at popular attractions and crowded beaches so unless you really crave the heat, avoiding that craziness can make for a much better trip.
And while, of course, the weather may be cooler in December, when you look at Barcelona's weather for each month, you'll see that it's still mild compared to many other parts of Europe. Bring layers and a jacket to stay comfortable, and you'll be able to enjoy all that Barcelona has to offer during the holiday season.
It also means that you'll have no issue weather-wise doing the outdoor activities that visitors love to do in Barcelona all year round. This includes things like tours of all the big sights, like this half-day bike tour of Barcelona, which, despite being outside (clearly!), is easily the most popular tour I see people booking, even in winter.
Plus, the city is decorated with festive lights and decorations, making it a magical time to visit! In fact, the Christmas lights are turned on during November in Barcelona, so whenever you come in December, the city will be fully lit up ready for your trip!
Another advantage of visiting Barcelona in December is the many holiday events and activities. The city is known for its Christmas markets, where you can find unique gifts and delicious food. There are also many concerts, shows, and other cultural events happening throughout the month.
And of course, you can't miss the famous New Year's Eve celebration in Plaça d'Espanya, where you can watch the fireworks and enjoy live music.
Best Things to Do in Barcelona in December
Barcelona, the vibrant and bustling capital of Catalonia, is a dream destination for many throughout the year.
But, there's something truly magical about visiting Barcelona in December. The city comes alive with festive lights, charming markets, and plenty of unforgettable experiences to enjoy during the holiday season.
Let's dive into the best things to do in Barcelona in December!
Christmas Markets
No visit to Barcelona in December would be complete without exploring the city's enchanting Christmas markets.
The most famous ones are unquestionably the markets located at the Barcelona Cathedral and the Sagrada Familia. These markets are brimming with unique gifts, delicious food, and festive decorations.
Make sure to keep an eye out for the quirky Catalan traditions of caganers and caga tios. Caganers are small figurines, often hidden in nativity scenes, depicting people in the act of defecating, while caga tios are wooden logs with painted faces, which "poop" out small treats when beaten with sticks.
Yep, they're pretty weird, there's no two ways about it. But they're also completely normal in Catalonia and are sure to make your Christmas market experience all the more memorable!
Els Llums de Sant Pau (The Lights of Sant Pau)
Make sure to catch the spellbinding Els Llums de Sant Pau (The Lights of Sant Pau), one of the city's most enchanting highlights during the holiday season.
As the festive spirit takes over Barcelona in December, Els Llums de Sant Pau reaches its peak, immersing visitors in a captivating world of light, color, and imagination. The front facade of the stunning Art Nouveau Site of the Hospital of Sant Pau has an amazing light show projected on to the front of it, that plays a couple of times each evening during the holiday season – so it's free to see!
But inside the grounds takes things to another level, as it's transformed into a sparkling fairy tale setting, offering a truly unique experience. With about 1.5 km (almost one mile) of lights, projections and glowing art work, I mean it when I say you'll truly be amazed by the spectacle.
You can find out more here, including information on getting tickets to this. Alternatively, if you're more interested in exploring this Art Nouveau masterpiece than taking in all the lights, then the Sant Pau Recinte Modernista is definitely still worth a visit and you can grab your tickets to the Hospital of Sant Pau here.
Medieval Market in Vic
For an enchanting day trip from Barcelona, consider visiting the Medieval Market in Vic. This annual event transports you back in time with its medieval-themed stalls, costumed performers, and live music.
Browse the market for handmade crafts, sample traditional food, and immerse yourself in the historical atmosphere. This day trip offers a unique experience you won't soon forget!
Fira de Reis (Kings' Fair)
The Fira de Reis, or Kings' Fair, is another must-visit market in Barcelona. These tend to open in mid-December in preparation for celebrating the arrival of the Three Kings in January in Barcelona and offer a great opportunity to pick up last-minute gifts or indulge in delicious Spanish treats.
The vibrant atmosphere, lively entertainment, and cheerful spirit make this fair a memorable event during your December visit.
New Year's Eve
Ring in the New Year in style in Barcelona! The city's celebrations are known for their festive atmosphere, with fireworks, live music, and revelers filling the streets.
Don't miss the spectacular light show at the Magic Fountain and the big club night out at Poble Espanyol. Barcelona's New Year's Eve celebrations are an experience you won't want to miss!
Sagrada Familia
No trip to Barcelona is complete without visiting the awe-inspiring Sagrada Familia. Designed by the famous architect Antoni Gaudí, this architectural masterpiece is truly breathtaking, especially when lit up during December evenings.
Take a guided tour to learn about the history and symbolism behind this iconic landmark, and make sure to climb one of the towers for a stunning panoramic view of the city.
PRO TIP: The Sagrada Familia is easily the most visited tourist site in Barcelona and tickets frequently sell out weeks ahead of time.
To make sure you don't miss out, you need to book your tickets for the Sagrada Familia well in advance of your visit. As once they're gone, they're gone – and seeing inside is a definite must while you're here.
Park Güell
Another Gaudí masterpiece, Park Güell is a beautiful and whimsical park that offers a perfect escape from the bustling city. Wander through the colorful mosaic terraces, lush gardens, and winding pathways while admiring the incredible views of Barcelona.
This park is a fantastic spot for a leisurely stroll or a romantic picnic, making it an essential stop during your December visit.
FYI: If you're looking to visit both the Sagrada Familia and Park Güell and you're short on time, you can get skip-the-line entry and a tour of both sights in one day right here.
Casa Batlló
Casa Batlló is another Gaudí creation that you can't miss in Barcelona. This stunning building, with its colorful façade and undulating balconies, is a true work of art.
Take a guided tour to learn about the history and architectural details of this modernist masterpiece, and enjoy the beautiful Christmas decorations that adorn the building during December.
Casa Mila (La Pedrera)
Casa Mila, also known as La Pedrera, is yet another Gaudí gem. This striking building features a unique, wavy stone façade and intricate iron balconies.
In December, the building comes alive with festive lights and decorations, making it an even more enchanting sight. Don't forget to visit the rooftop terrace for breathtaking views and an up-close look at Gaudí's imaginative chimneys.
Gothic Quarter
The Gothic Quarter, or Barri Gòtic, is the heart of Barcelona's old city. With its narrow cobblestone streets, medieval architecture, and charming squares, this historic neighborhood is the perfect place to wander and soak up the atmosphere.
The area is adorned with twinkling lights and festive decorations in December, adding an extra touch of magic to your explorations. Stop by one of the many cozy cafés for a cup of hot chocolate or a glass of cava to warm up during your walk.
Passeig de Gracia
Passeig de Gracia is one of Barcelona's most elegant boulevards, lined with upscale shops, exquisite modernist buildings, and chic restaurants.
During December, the street is illuminated with festive lights, making it the perfect place for a leisurely stroll or some holiday shopping. Don't forget to admire the architectural marvels along the way, such as Casa Batlló and Casa Mila.
Barcelona Food Tour
Barcelona is a food lover's paradise, and there's no better way to explore the city's culinary scene than by joining a food tour.
These guided tours take you to the best tapas bars, markets, and specialty shops, where you can sample traditional Spanish and Catalan dishes. In December, you'll also have the chance to taste festive treats and seasonal delicacies that are sure to take your trip to the next level.
Museu Picasso de Barcelona
Art enthusiasts will love the Museu Picasso de Barcelona, which houses one of the most extensive collections of Pablo Picasso's works. Discover the famous artist's early years and his deep connection to the city of Barcelona as you explore this impressive museum.
Visiting during December allows you to enjoy the museum without the usual crowds, providing a more intimate experience with Picasso's masterpieces.
Fundació Joan Miró
The Fundació Joan Miró is dedicated to the works of the renowned Catalan artist Joan Miró. This modern art museum showcases a wide range of Miró's paintings, sculptures, and drawings, as well as temporary exhibitions from other contemporary artists.
Located on Montjuïc hill, the museum offers stunning views of Barcelona, making it an ideal spot to visit during your December trip.
Weather in December in Barcelona
While December is one of the coldest months of the year in Barcelona, the weather is still pleasant enough to enjoy outdoor activities. The average high temperature during the day is around 14°C (57°F), while the average low temperature at night is around 5°C (41°F).
Plus, with only three days of rain on average, you can enjoy the city's festive atmosphere without worrying about getting wet.
That said, it basically never snows in Barcelona in December (or ever – at least not in the city center) so if you're looking to go to a winter wonderland for your Christmas vacation, the mild weather here may not be what you actually want.
In any case, it's important to note that the weather in Barcelona can be unpredictable, so it's always a good idea to pack a variety of clothing options. Layering is key, as temperatures can fluctuate throughout the day.
What to Wear in Barcelona in December
If you're visiting Barcelona in December, you'll want to pack some warm clothes. While the city is relatively mild compared to many Northern European cities, it can still get chilly during the winter months. Here are some tips on what to wear in Barcelona in December.
The key to staying warm in Barcelona in December is to layer up. Start with a base layer, such as a long-sleeved shirt or thermal top, and then add a sweater or cardigan.
You'll also want to bring a warm coat or jacket, as well as a scarf, hat, and maybe even gloves. Don't forget to wear comfortable shoes, as you'll be doing a lot of walking around the city.
Of course, if you're planning on going out to dinner or to a show, feel free to dress up a bit. But for daytime activities, such as sightseeing or visiting museums, casual wear is fine. Just make sure you're comfortable and can move around easily.
Travel tips for December in Barcelona
Dress in Layers
In December, Barcelona's weather can be quite unpredictable, with temperatures ranging from chilly mornings to milder afternoons. To stay comfortable during your sightseeing, dress in layers.
Wear a warm sweater or fleece, along with a light, waterproof jacket that can be easily removed as the day warms up. Don't forget to pack a scarf, gloves, and a hat for those cooler days and nights.
Book Your Accommodation Early
Barcelona is a popular destination all year round, and December is no exception. To secure the best deals and ensure availability, book your accommodation well in advance.
This will give you the opportunity to choose from a wider range of options, whether you prefer a cozy boutique hotel, a budget-friendly hostel, or a luxurious apartment rental.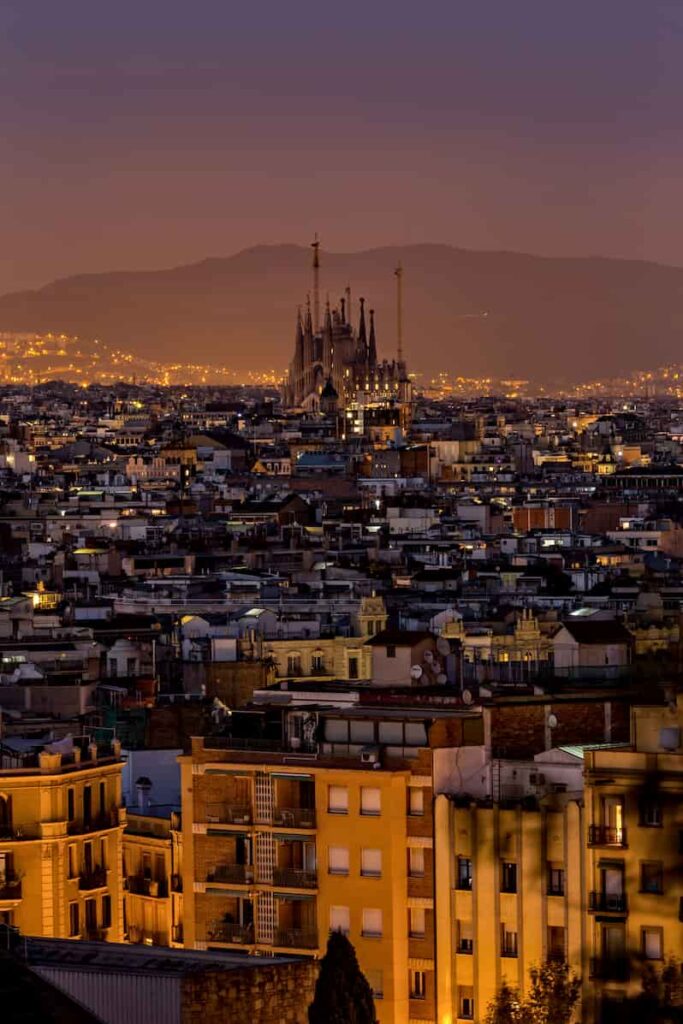 Take Advantage of Fewer Crowds
December is an excellent time to visit Barcelona's most popular attractions, as the city tends to be less crowded compared to the peak summer months. Take advantage of this by planning visits to iconic landmarks like the Sagrada Familia, Park Güell, and the Picasso Museum.
Remember that some attractions may have reduced hours or may be closed on certain days during the holiday season, so be sure to check ahead and plan accordingly.
Experience Local Holiday Traditions
Embrace the local holiday spirit by participating in some of Barcelona's unique traditions. Attend a Christmas concert at the stunning Palau de la Música Catalana, watch the Three Kings Parade in early January, or take part in the festive atmosphere at one of the many Christmas markets.
By immersing yourself in the local customs, you'll create unforgettable memories and gain a deeper appreciation for the city's rich culture.
Indulge in Seasonal Cuisine
During your December visit, don't miss the opportunity to taste some of the seasonal dishes that are more typical during the winter months.
Sample traditional treats like turron (a sweet nougat), polvorones (crumbly almond cookies), and escudella i carn d'olla (a hearty meat and vegetable stew). Make a reservation at a local restaurant or join a food tour to discover the best spots for indulging in these delicious seasonal specialties.
Why Shouldn't You Travel to Barcelona in December?
If you're planning a trip to Barcelona, you might be wondering whether December is a good time to visit. While Barcelona is a great destination year-round, there are a few reasons why you might want to avoid visiting in December.
1. The Weather
While Barcelona is one of the warmer cities in Europe, December is still considered winter.
The temperatures can drop to around 9°C (48°F) at night, and only reach around 15°C (59°F) during the day. It can also be quite rainy, with an average of 3 days of rain during the month.
So if you're looking for a warm and sunny Spanish beach vacation, December might not be the best time to visit Barcelona.
2. No Snow
It may sound funny putting this as a negative right after mentioning the lack of heat being a potential downside, but it's true that many people travel over the holidays in search of that European winter wonderland.
Unfortunately, as mentioned a bit earlier, you're not going to find it here. Barcelona doesn't really get snow, so it's not going to be that kind of Christmas scene.
That said, there are plenty of other places around Spain (and in nearby Andorra) that get tons of snow, so you could always combine a trip to Barcelona with a visit to a snowier corner of the country.
3. Limited Opening Hours
Many shops, restaurants, and attractions in Barcelona have limited opening hours during the month of December. This is especially true on Christmas Eve, Christmas Day, and New Year's Day.
This means that if you're planning to visit Barcelona during this time, make sure to check the opening hours of the places you want to visit in advance. You might need to adjust your itinerary to make sure you can see everything you want to see.
FAQs
Can You Swim at the Beach in Barcelona in December?
While the weather in Barcelona in December is mild, it's not warm enough for swimming in the sea. The average temperature during the day is around 14°C/54°F, and at night, it can drop to 6°C/43°F. The sea temperature is around 14°C/57°F, which is too cold for most people to swim comfortably.
However, you can still enjoy a leisurely walk along the beach or sit on the sand and enjoy the view.
Does It Rain in Barcelona in December?
December only sees about 6 rainy days on average in Barcelona, and the total rainfall for the month is around 28mm, which is below average. However, occasional rain is still possible, so it's a good idea to bring a raincoat or umbrella just in case.
Is It Hot in Barcelona in December?
Barcelona in December is not hot, but it's not freezing either. The average temperature during the day is around 14°C/54°F, and at night, it can drop to 6°C/43°F. You'll need to wear warm clothes, especially in the evenings, but you won't need heavy winter coats or boots.
Is It Cold in Barcelona in December?
Barcelona in December is not as cold as other European cities, but it's still chilly. The average temperature during the day is around 14°C/54°F, and at night, it can drop to 6°C/43°F. You'll need to wear warm clothes, especially in the evenings, but you won't need heavy winter coats or boots.
Is Barcelona Windy in December?
Barcelona can be windy at any time of year, but it's not particularly windy in December. The average wind speed is around 10 km/h, which is relatively calm. However, occasional gusts of wind are possible, so it's a good idea to bring a light jacket or sweater to protect yourself from the wind.