10 Most Famous Churches in Barcelona (2023)
This article may contain affiliate links. Please read our
Disclosure Policy
for more information.
Considering a trip to Barcelona? Among its many things to see, the city's rich tapestry of churches stands as a testament to its deep historical roots and diverse architectural styles.
This city is more than just sandy beaches and tapas; it's a treasure trove of architectural wonders with tales that span centuries.
And as you'll soon see, you shouldn't just aim to tick off visits to each of the most famous churches in Barcelona – instead, learning why they're truly part of the history of the city can take your trip to another level.
Each one tells a story, offering a glimpse into the past, while painting a picture of Barcelona's ever-evolving character. And if you're planning a trip to the city, while the Sagrada Familia is a definite must-see, there are other churches here that are also worth your time.
After all, as someone who lives in Spain and has spent substantial time wandering Barcelona's charming streets, I certainly have some thoughts on those churches that really leave an impression – places where history, art, and community converge.
1. Sagrada Família
The Sagrada Familia is easily the most famous church in Barcelona. In fact, it's not just another church, but an emblem of the city and Gaudí's most iconic work. The blend of Gothic and Art Nouveau styles will make your head turn, and the intricate facades tell a story that's both deep and visually compelling.
A bit of history for you: the construction of this basilica started way back in 1882 and, believe it or not, it's still not done! But don't let that deter you from a visit – after all, there's a reason it's also the most popular tourist spot in Barcelona.
The bursts of color inside from the massive stained glass windows and the intricate designs on both the exterior and interior each tell a story. It almost leaves you not knowing where to look when you first lay eyes on it all.
Now, if you're thinking of heading there (and you totally should) try to give yourself the time to also go up the towers. 
The views of Barcelona from up there? It's the kind of view you'll be telling your friends about for weeks. It's a unique experience and offers a vantage point unlike any other in the city.
PRO TIP: The Sagrada Familia is easily the most visited tourist site in Barcelona and tickets frequently sell out weeks ahead of time.
To make sure you don't miss out, you need to book your tickets for the Sagrada Familia well in advance of your visit. As once they're gone, they're gone – and seeing inside is a definite must while you're here.
2. Barcelona Cathedral
After the modernity of Sagrada Família, let's swing back to the Gothic wonders of the Barcelona Cathedral. Smack dab in the middle of the Gothic Quarter, this cathedral is a testament to the rich history and architectural prowess of the bygone eras.
Walking around, you'll be struck by the tall Gothic arches, the finely carved woodwork, and the serene cloister with its resident geese (yep, geese!).
You know, there's something uniquely calming about the atmosphere inside, a far cry from the bustling streets in the city center just outside its doors.
And hey, if you're into getting a panoramic view of the city (who isn't?), climb to the rooftop. The experience is altogether different from Sagrada Família's towers but equally impressive.
With the old town sprawling beneath you and the mountains in the distance, it's a perspective of Barcelona you won't want to miss.
FYI: When you book your tickets for the Cathedral, you'll have the option to select an entry time. Try to pick a morning slot, as the Cathedral tends to be much quieter then, making for a better visit overall.
3. Santa Maria de Montserrat
If you're looking for a church visit with a twist, let me introduce you to Santa Maria de Montserrat. This isn't just another city church; it's a mountain-top monastery with a backdrop that's straight out of a postcard.
If you've ever wondered what it feels like to have your head in the clouds (literally!), Montserrat might just be your ticket.
The basilica here houses the revered statue of the Black Madonna, and the ambiance inside has this serene, ethereal quality. But let's face it, part of the charm is the journey to get there.
With winding roads leading up to the monastery and panoramic views of Catalonia, the journey is as much an experience as the destination.
Now, if you're wondering how to get there, don't worry. There are organized tours that take you on a day trip from Barcelona to Montserrat.
And the cherry on top? The one I recommend (at that link!) can even combine this with a trip to a local winery for lunch and a wine tasting.
Just imagine sipping on some fine Catalan wine after a morning of exploration – sounds like the perfect day, doesn't it?
4. Sant Pau Art Nouveau Site
Switching gears a bit, let's talk about the Sant Pau Art Nouveau Site. Okay, I hear you – "that's not a church!" And you'd be right.
But, hang with me here because this modernist complex, crafted by the genius Lluís Domènech i Montaner, is home to a chapel that's a feast for the eyes.
The whole complex is a colorful dance of mosaics, stained glass, and sculptures. And the chapel? It's genuinely like a modernist dream.
The vibrant play of colors, the intricate designs, and the sheer artistry that's gone into creating it, makes it a must-visit.
Now, I've got to admit, it's a slightly offbeat choice for church enthusiasts, but if you're a fan of art nouveau or modernist architecture, you're in for a pleasant surprise. It's a testament to how Barcelona isn't just about its age-old structures; it's also about innovation and pushing boundaries.
5. Basilica of Santa Maria del Mar
Continuing our adventure through the most famous churches in Barcelona, let's talk about the Basilica of Santa Maria del Mar. Located in the El Born district, it's got a rich history that dates back to the 14th century.
The whole structure was built in a mere 55 years, which, considering the architectural detail and the technology back then, is pretty impressive.
Walking into Santa Maria del Mar, there's this sense of space and lightness that's really unexpected. The tall columns, expansive nave, and the minimalistic gothic design give it an airy feel, despite its imposing size.
It's not just about the architecture, though. The basilica has witnessed some critical moments in Barcelona's history, and you can almost feel those stories in the walls.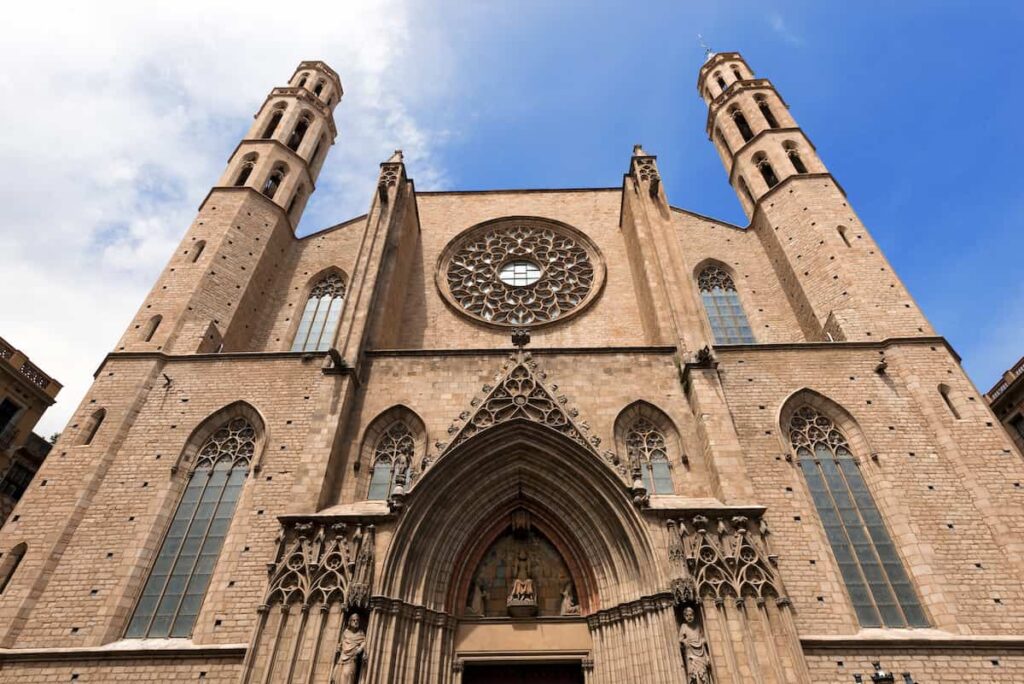 And hey, here's a pro tip for you: if you're an evening kind of person, try catching an organ concert there. The acoustics? Pure magic. The ambiance is so immersive, it's like you're in a different world.
6. Basilica of Santa Maria del Pi
Tucked away in a quiet corner of the bustling La Rambla, the Basilica of Santa Maria del Pi is a bit of an unsung hero, but no less impressive. Honestly, it's a bit like finding a quiet café in a busy neighborhood – unexpected but totally worth it.
This basilica has a beautiful rose window, one of the largest of its kind in the world. And if you're into intricate stained glass work, this is your spot.
The hues of blues, reds, and yellows play with the sunlight in such a mesmerizing way; it's almost like watching a dance of colors.
But you know what takes the cake? The bell tower. Climb up, and you get this 360-degree view of Barcelona's skyline.
The mix of old and new, the red-tiled roofs blending with modern structures, it's a sight to behold.
7. Church of Sant Felip Neri
If you're hunting for a piece of Barcelona that feels like a secret whispered in hushed tones, let the Church of Sant Felip Neri be your next stop. Tucked away in a quiet square of the Gothic Quarter, this church tells tales not just through its baroque architecture but through the very stones it's built of.
Now, I know I've taken you on a whirlwind tour of some colossal churches so far, but Sant Felip Neri is different. It's intimate, peaceful, and has this soothing vibe that feels like a gentle pat on the back.
The facade bears the scars from bombings during the Spanish Civil War, a poignant reminder of the city's tumultuous past.
The square outside? It's one of those places where you can sit, soak in the atmosphere, and let time drift by.
There's something profoundly calming about the trees, the fountain, and the soft chatter of locals going about their day.
8. Temple Expiatori del Sagrat Cor
For a view that's epic in scale and gives you Barcelona stretched out beneath your feet, you've got to make your way to the Temple Expiatori del Sagrat Cor. Perched on the summit of Mount Tibidabo, it's like the city's protective guardian looking over its sprawling expanse.
Externally, with its neo-Gothic spires and the grand statue of the Sacred Heart at the top, it's a sight that'll make you pause and take a moment. Inside, the vibe is serene with beautiful mosaics and stained glass lending the space a soft glow.
But here's the clincher: the elevator ride to the top. You get a bird's eye view of Barcelona, the Mediterranean Sea shimmering in the distance, and the surrounding mountains.
If you're someone who lives for these panoramic city views, this one's for you.
9. Iglesia de Sant Pau del Camp
Hello again, explorers! Ever had that feeling of stepping into a time machine? Well, with the Iglesia de Sant Pau del Camp, you're about to.
Tucked away in the Raval district, this is, believe it or not, one of the oldest churches in Barcelona. Its stone walls and Romanesque arches are like whispers from a distant past.
Once you enter, it's like this serene little bubble where time slows down. The cloister, with its elegant archways and gentle fountain, feels like a slice of countryside right in the heart of the city.
Got an afternoon to spare? Just stroll in, take a seat on one of the benches, and let the murmur of the fountain and the play of shadows take you back to simpler times.
10. Monastery of Pedralbes
Moving from the heart of the city, let's trek a little outward to a space that's all about peace, serenity, and a touch of elegance – the Monastery of Pedralbes. Founded in the 14th century for the Order of Saint Clare, it's a beautiful reminder of Gothic Catalan architecture.
The first thing you'll notice is the vast three-tiered cloister. It's surrounded by slender columns and overlooks a courtyard that changes colors with the seasons.
Inside, you'll find a series of chapels, each with its own unique artwork and character. In particular, don't miss the mural paintings in the Saint Michael chapel. They offer a rare glimpse into medieval artistry and are honestly, a bit mesmerizing.
Whether you're looking for a dose of history, some architectural inspiration, or just a peaceful spot to sit and reflect, the Monastery of Pedralbes beckons.
FAQs
What is the most famous Catholic church in Barcelona?
The most famous Catholic church in Barcelona is undoubtedly the Sagrada Família. Designed by the legendary architect Antoni Gaudí, it's become an iconic symbol of the city and draws millions of visitors each year. Its distinct architecture sets it apart from other churches around the world.
The Sagrada Família's construction began in the late 19th century and, interestingly, it's still ongoing. This ever-evolving nature of the church adds to its charm and allure.
As you approach, its intricate facades, each depicting different biblical scenes, invite introspection. Inside, the forest-like columns and the play of light through its stained glass windows create an atmosphere that many describe as otherworldly.
If you're planning a visit, allocate ample time to really soak in the details – both inside and out. It's also imperative to book your tickets well in advance as they regularly sell out weeks ahead of time!
Why is La Sagrada Familia famous?
La Sagrada Família is famous primarily for its unique architectural style, a blend of Gothic and Art Nouveau forms. It stands as one of the masterpieces of renowned architect Antoni Gaudí, who devoted a significant part of his life to its design.
Additionally, its long construction timeline, which has spanned over a century, has piqued the interest of many worldwide.
Gaudí's vision for La Sagrada Família wasn't just limited to its design. He imagined it as a space that would tell the story of Christianity, from the birth of Jesus to his resurrection.
The three facades of the church, each intricately detailed, correspond to different stages of Jesus's life: the Nativity, the Passion, and the Glory. As visitors walk through, they're essentially navigating through a stone scripture.
Beyond its religious significance, La Sagrada Família is a testament to Gaudí's genius. His innovative use of light, geometry, and natural motifs breaks away from traditional church designs, making it a favorite subject for both architects and enthusiasts.
While it's already an awe-inspiring structure, the anticipation surrounding its eventual completion adds another layer to its global fame.