Cathedral of the Sea, Barcelona: Must-Visit Historical Gem
This article may contain affiliate links. Please read our
Disclosure Policy
for more information.
You know, some places just have a certain magic about them, a palpable history that you can feel in the very air. The Cathedral of the Sea in Barcelona is one of those places.
If you're curious about this historic gem – known as the "Basilica de Santa Maria del Mar" in Spanish – you're about to embark on a pretty special journey into its past. From centuries-old dramas to cultural resilience thanks to Ildefonso Falcones, this cathedral has seen it all.
I've been fortunate enough to live in Spain for some time now and so have spent a ton of time in Barcelona over the years. Through my many strolls and conversations with locals, I've gathered tales and insights about this iconic cathedral that are too good to keep to myself.
So, if you're up for a truly interesting dive into Barcelona's architectural history, sprinkled with stories that might not make it to the average travel guide, you're in the right place.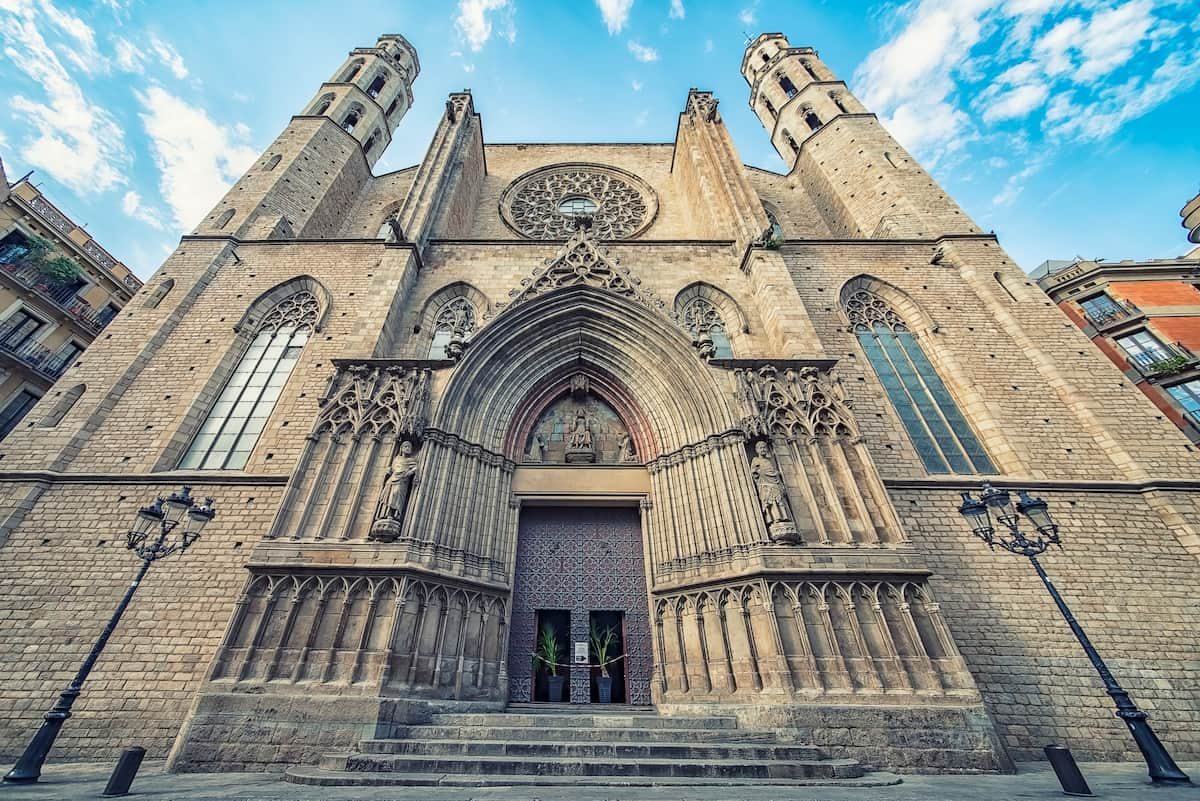 Tours of the Cathedral of the Sea in Barcelona
You can explore the architectural elegance and harmony of this Cathedral through various guided tours:
Santa Maria del Mar Interior/Terraces Guided Tour – This is the tour I'd most recommend, as it allows you to experience the exquisite interior of the church while also visiting the crypt and roof terraces (with their incredible views!). It gives you not only skip-the-line access to the Cathedral, but provides you with insights into the history of the building and stunning views of the surrounding city landscape.
The Cathedral of the Sea Literary Walking Tour – This tour is inspired by the best-selling novel The Cathedral of the Sea by Ildefonso Falcones. By taking you to locations where the central character, Arnau, lives and spends his time, you'll get a thrilling gaze into the historical spaces from almost 700 years ago.
Old Town and Gothic Quarter Walking Tour – If you're looking for a more general tour that includes Santa Maria del Mar as part of it, this tour is great for giving you an overview of the oldest part of Barcelona. The stories you'll hear about the history of this area, including the Cathedral, are incredible and really help you to appreciate what you're seeing around you during your vacation.
Whichever tour you choose, remember to book your tickets and tours in advance, as availability can be limited, especially during peak tourist seasons. Spots frequently sell out, so it's always a good idea to secure your place ahead of time.
Alternatively, if you'd like to visit Barcelona's Cathedral of the Sea yourself rather than on an organized tour, make sure you take note of the Cathedral's opening hours:
Monday to Saturday: 10am to 6pm
Sunday: 1:30pm to 6pm
Sights near Santa Maria del Mar
Joining a guided walking tour is an excellent way to learn about the history and significance of Santa Maria del Mar, as well as its surrounding neighborhood, El Born. In fact, once you're done exploring the Basilica, there are plenty of other things to do nearby that are worth going to see.
For example, don't forget to check out the Born Cultural Centre nearby, where you can further immerse yourself in Barcelona's rich past.
And just a stone's throw away from Santa Maria del Mar, you'll find the world-famous Picasso Museum. This museum not only houses an extensive collection of Pablo Picasso's works but also demonstrates the strong connection between the artist and Barcelona.
During your visit to the Ribera district, it's worth dedicating time to explore both of these cultural landmarks, deepening your understanding of Barcelona's history and artistic heritage.
Architectural Features of the Cathedral
The Cathedral by the Sea in Barcelona, also known as Santa Maria del Mar, boasts a Gothic design that's truly unique. As you explore this beautiful Roman Catholic church, you'll be awed by its incredible proportions and architectural elements.
Built between 1329 and 1383, it remains an important symbol of Catalonia's maritime and mercantile history.
Uniqueness of The Gothic Design
The Catalan Gothic style found in Santa Maria del Mar exhibits a unified, elegant design which is unusual in large medieval buildings. The church comprises of three naves and a single apse, with the longest nave adjacent to the main entrance to accommodate the dimensions of the cimborio.
The structure demonstrates features typical of Catalan Gothic constructions, such as the efficient use of space and the elegant arrangement of proportions.
Another striking aspect of the cathedral's design is its lack of gargoyles, which were traditionally used in Gothic architecture as decorative, functional elements. Instead, you'll find carefully crafted columns and expansive arches showcasing the emphasis on simplicity in Catalan Gothic style..Importance of Stained Glass Windows
One of the features of Santa Maria del Mar that's most likely to grab your attention is its stunning stained glass windows, particularly the impressive rose window above the main portal. These windows not only add magnificent splashes of color throughout the church, but they also have significant symbolic meanings within the Roman Catholic tradition.
Within the nave and side chapels, you'll discover intricate stained glass windows depicting various biblical scenes and saints. These windows serve to inspire and educate the faithful, creating a sense of wonder and reverence.
Additionally, the Baroque altar within the church is an important element, showcasing a fusion of artistic styles from different periods.
In case you can't tell already, when you visit Santa Maria del Mar, you'll be stepping into a world of architectural marvels and timeless beauty. From the unique Catalan Gothic design to the captivating stained glass windows, this historic cathedral truly is a testament to human artistry and devotion.
History of the Cathedral by The Sea in Barcelona
While the architecture of Santa Maria del Mar is literally jaw dropping, for me, its history is just as interesting, especially when you think of how long it's been watching over Barcelona.
1.The Bastaixos Role
In 14th-century Barcelona, the construction of the Santa Maria del Mar church, also known as the Cathedral by the Sea, was a community effort. The Bastaixos were port workers who played a significant role in constructing the church.
These workers volunteered their time and effort, transporting heavy stones and other materials for building the church from the nearby Montjuïc quarry to the construction site. In fact, it was thanks to their hard work that the Cathedral took only 54 years to be built – which is an amazing achievement when you consider how long others take to be built (just ask the Sagrada Familia, which has been under construction for more than 140 years and counting).
And as you walk through the basilica, you can observe the stunning Gothic style and impressive stained-glass windows. Keep an eye out for various symbols of wealth and maritime trade scattered throughout, reflecting the thriving trade community of medieval Barcelona.
2.Berenguer de Montagut Influence
Berenguer de Montagut was the architect responsible for the design of Santa Maria del Mar. His influence on the church is evident in its distinctly Catalan Gothic style, known for its purity and unity.
De Montagut made sure to create a spacious, light-filled, and harmonious interior by designing tall columns, large windows, and minimal ornamentation, setting it apart from other large medieval Gothic cathedrals.
3.Santa Maria del Mar Relevance
Santa Maria del Mar gained prominence as a symbol of Barcelona's maritime and mercantile power in the 14th century. However, during the Spanish Civil War, the church fell victim to arson and suffered severe damage, including from a fire that destroyed all of its interior in 1936.
Despite this, it continued to stand as a testament to the city's resilience. In fact, after the war, significant restoration work was undertaken to bring the church back to its original state.
Today, it remains an essential part of Barcelona's cultural and historical landscape, and it's regarded as an outstanding example of Catalan Gothic architecture. Visitors can certainly continue to appreciate its beauty and learn about its rich history during their visit.
Cathedral of the Sea in Literature and Pop Culture
The Cathedral by the Sea, Santa Maria del Mar, has captured the attention of various forms of media, including novels and TV series.
One of the most famous literary works revolving around this beautiful church is Ildefonso Falcones's novel "La Catedral del Mar." This rich representation has expanded into the visual realm as well, with a popular Netflix series adaptation.
La Catedral del Mar by Ildefonso Falcones
"La Catedral del Mar" is a historical novel by Spanish author Ildefonso Falcones. The story follows the life of Arnau Estanyol, a peasant who flees from his feudal lord and finds refuge in Barcelona. 
As he becomes a free man and eventually grows wealthy, the people in the Ribera neighborhood, home to many fishermen, decide to build the greatest temple in honor of the Virgin Mary: Santa Maria del Mar, or, in the novel, Saint Mary of the Sea.
Through this symbol of devotion, love, and perseverance, Arnau and the other characters are able to explore themes of freedom and personal growth.
The Cathedral of the Sea: The Netflix Series
Expanding from the written pages of Falcones's novel, Netflix brought the story of "La Catedral del Mar" into production as a TV series back in 2018. The series follows Arnau Estanyol through a variety of episodes, exploring the same themes of love, struggle, and the pursuit of freedom.
The symbolism inherent in the Cathedral of the Sea acts as a center-point for each character's journey, highlighting the perseverance and determination needed to build such a monumental, spiritual structure.
I have to admit: I haven't watched the Netflix series, although it got a ton of positive reviews, with many viewers commenting that they found the TV adaptation to be a loyal representation of the novel.
Plus the adaptation also features scenes from other works by Ildefonso Falcones, like "Heirs to the Land", so it's truly a broad adaptation of his work.